Shatner's Missing Kirk Scene From Star Trek Finally Revealed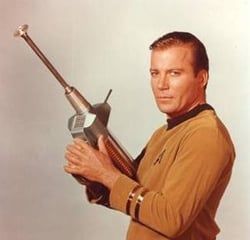 Even before Star Trek was released early last summer, there were rumors about William Shatner's supposed involvement. First, he was signed on, then he wasn't, then J.J. Abrams came out and said he offered the part but Shatner wasn't interested then Shatner denied such matters. The truth is, we have no clue what really happened, but what we do know now is that a part existed.
TrekMovie.com seems to have gotten their hands on the script for the scene would have had Shatner back in his Kirk pants. One of the problems that J.J. Abrams expressed in bringing Shatner on board was the character's death, and the scene definitely deals with that in an elegant manner by forgoing an appearance in present time and instead showing a private message Kirk sent to Spock years before.
The scene would have been come at the tail end of the movie and would've had Shatner in hologram and voice-over form rather than in tangible form. To be honest, it's pretty damn good. It brought a little tear to my eye, and it would've been a pretty powerful way to end the film. However, you can't dwell on what never was, and the movie turned out great without this scene. Still, it's hard not to wonder.
Check out the beginning of the scene below and click through to TrekMovie.com to see it in its entirety.
Your Daily Blend of Entertainment News