Short Circuit Remake Wants Fisher Stevens To Return, But Less Racist This Time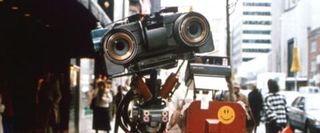 Steve Guttenberg, or as I like to call him 'The Gute', was as big a star in the 80s as Seth Rogen is today. Sometimes he was the lovable sidekick, other times he took the lead, and all times his films made boatloads of cash. Today, we don't see as much of The Gute as we may like, but he has some news about one of his franchises that will soon be getting the reboot treatment.
Short Circuit, the series about Johnny 5, a robot with a heart of gold, has been set for a remake at Dimension since late 2009, and earlier this spring director Tim Hill came on board. Hill's most recent hit Hop made $183 million worldwide, but his most impressive credit, for the young at heart like myself, is the 29 episodes of Rocko's Modern Life that he wrote. He's also been writing for Spongebob Squarepants.
A part of a feature on Guttenberg, LA Times learned recently that Fisher Stevens, who played the eccentric scientist who created Johnny 5 in the original Short Circuit, has been contacted by the studio and is willing to reprise his role for the remake. Nothing is penned, but it's a strong possibility that the slightly racist character of Ben Jabituya will return, albeit less racist this time around. But even with his 80's box office pull, Steve Gutenberg, the original film's star, has not gotten that same call. Clearly interested in returning, The Gute had this to say about what happens in these situations:
Stevens has been keeping busy recently not only as an actor, but he also produced The Cove which won best documentary at the 2009 Academy Awards. Not many people will know him by name, but his proverbial "that guy" status may be enough to garner a little interest in the film. More on Short Circuit as the film nears production.
Your Daily Blend of Entertainment News
Thank you for signing up to CinemaBlend. You will receive a verification email shortly.
There was a problem. Please refresh the page and try again.