New Shot Of Paul Bettany In Priest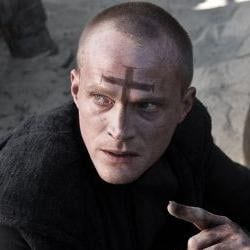 Via Bloody Disgusting, Sony has released the first image of Paul Bettany in-character and in-scene as the title character in next May's Priest. It's an adaptation of the TokyoPop series that's in the process of being retroactively converted into 3-D (a la Clash of the Titans...sigh. We know, we know). The Screen Gems release gives us a post-apocalyptic world decimated by centuries of war, in which Bettany plays a Catholic warrior-priest gone rogue in order to rescue his niece from a band of rampaging vampires.
I seriously had to read the above description to myself three times, just to make sure I had all the details right. Man, Catholic School has gotten a lot cooler since I was a kid, apparently.
Click the image below for a high-res version of Paul Bettany's lead character, his unfortunate quarry, and his spectacularly unfortunate forehead brand.
Your Daily Blend of Entertainment News