Skyfall Isn't Just A Great Bond Film: It's The Character's Resurrection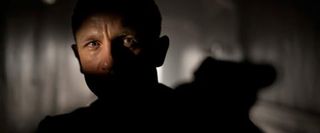 The new James Bond film Skyfall shares no continuity with any of the previous films, but we meet a different Bond than the first time Daniel Craig played the character in Casino Royale. He's older, he's crankier (especially with M), and after taking a powder early in the film to grow a beard and drink in beachside shacks, he's so out of shape that he's winded after a few laps in a pool. Bond is still Bond, but he's also a symbol from an earlier time, a man of physical action in an era when computer viruses, not armed attacks, bring down nations.
But what's beautiful and stirring about Skyfall is the way it makes Bond vital, not just in this story but in modern culture as a whole. Tackling straight-on so many elements of Bond that both Casino Royale and Quantum of Solace seemed too eager to run away from-- the shaken martinis, the tuxedo, the quips and the Aston Martin-- Skyfall creates a mission statement for the character's very existence, proving how perfectly everything we know about Bond can fit into modern times. Midway through the film he deadpans that his hobby is "resurrection," and though this new Bond was technically introduced six years ago, it really does feel like he's been reborn. With a perfect mix of classic Bond tropes and fresh, modern style, Skyfall is vital, thrilling and consistently surprising; it's as good as Bond has ever been, and a more than convincing argument that James Bond matters more now than ever before.
The plot is satisfyingly straightforward, with the opening sequence-- a thrilling chase through Istanbul-- leading directly to the film's major plot, as a mysterious villain threatens MI6 with specific eye on M (Judi Dench). Only about halfway through do we meet that villain, Javier Bardem's flamboyant and terrifying Silva, but leading up to that the pace never feels slow, bringing Bond away from MI6 and back in, establishing his witty rapport with fellow agent Eve (Naomie Harris), a lingering distrust of top boss Gareth Mallory (Ralph Fiennes), and a hilarious disdain for young new Q (Ben Whishaw), who represents every tech-geek stereotype you just know Bond would loathe. Skyfall is much funnier than Casino Royale or especially Quantum of Solace, and the early MI6 scenes feel like a cozy homecoming, as if Bond is building up his confidence before venturing back out on assignment.
From there we follow Bond to Shanghai (for a spectacular fight scene lit in silhouette) and Macau (another great fight with a surprising comic climax), and then back to Mother England for the film's tour de force finale. Director Sam Mendes, who's never made anything remotely resembling an action movie before, is phenomenally confident behind the camera, helped of course by director of photography Roger Deakins, who crafts unbelievably striking images even in settings as mundane as a subway tunnel. But Mendes is no Oscar-winner trying to add prestige to Bond-- he's clearly enamored with all the trappings of the franchise, and gives the film real stakes and weight while also keeping it ferociously entertaining.
There's a little momentum lost as the film gears up for its final action setpiece-- at two hours and 20 minutes, Skyfall feels a bit bloated. But even scenes that don't feel necessary are executed with such great skill that you can't deny them, especially when actors as wonderful as Helen McCrory, Albert Finney, and even newcomer Berenice Marlohe keep showing up to lend their support. Every actor feels exceptionally strong, with Dench doing some of her most emotional work yet as M, Harris a perfectly feisty foil to bring out Bond's witty side, Fiennes subverting his character's stuffed-shirt exterior with steely gazes, and Whishaw (having a seriously great year between this and Cloud Atlas) an ideal, hyper-verbal Q. But nobody comes close to Bardem, who tears through the movie like a tornado, his Silva a maniac with elaborate plans and extremely surprising tactics to put Bond off his game. If you thought the torture scene in Casino Royale was Bond's biggest one-on-one challenge, wait until you see Bardem stare him in the eye and lightly caress his Adam's Apple.
On his third outing Daniel Craig's Bond finally feels like he's come into his own, a strong balance of old and new but a rugged, clever character all his own. And Skyfall is the suave yet wry, superbly confident and perfectly executed movie to match him.
*Full Disclosure: This is not our official review of Skyfall. I visited the set in Istanbul back in April-- you can read all about that here-- and you may choose to assume I'm biased as a result. I don't think I am, but of course, how could I know? Either way, we'll have an official review of the film from someone else in a few weeks, just for balance.
Your Daily Blend of Entertainment News
Staff Writer at CinemaBlend