Slates For Sarah PSA Demands We Never Forget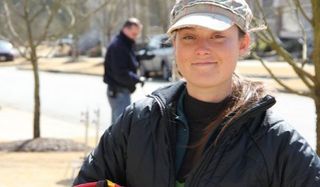 It takes a lot of people to make a movie. Mostly, we pay attention to the film's stars, or their above-the-line crew like directors and screenwriters. However, it is often a small army that is employed to scout locations, construct sets and costumes, set up lighting, operate cameras, feed the cast and crew, and accomplish all the less sexy but absolutely crucial tasks absolutely required. When an actor gets hurt on set, it's big news. But it's the death of a crewmember that moviemaking's lesser-known contributors are entreating us all to acknowledge.
THR says the group Slates For Sarah has organized the above PSA, which asks that we all remember what happened to Sarah Jones, in hopes that it will never happen again. The video features stunt people, caterers, gaffers and grips, make-up artists, a wardrobe department, assistant directors, camera operators, producers and stars like Sam Underwood, Heather Locklear, Paul Dano, Eddie Kay Thomas and Wendi McLendon-Covey silently holding signs Reading "#slatesforsarah," "Never Forget Never Again," "Safety for Sarah" and "We Are All Sarah." It is part of an ongoing campaign to raise awareness and assert safety as a priority on all sets.
Five months ago, Sarah Jones, a second assistant camera operator who often worked in and around the production hub that is Atlanta, Georgia, was killed in a tragic onset accident. Jones was working on the Allman Brothers biopic Midnight Rider. The crew had set up to shoot a sequence on some train tracks in Wayne County, Georgia. Unexpectedly to the crew, a train came barreling down the tracks, injuring several, and killing Jones.
Fingerpointing began almost immediately. The producers blamed the train company. The police revealed the production company's request to shoot at this location had previously been denied, suggesting that the film makers had knowingly endangered their cast and crew. This spurred an investigation into the event that is still ongoing, looking to uncover if the death of Sarah Jones might be ruled negligent homicide.
In the face of this tragedy, the filmmaking community didn't wait to find out who was to blame. They simply rallied for change, and called for Jones to be recognized at the Academy Awards memoriam, where she was briefly acknowledged. From there, below-the-line workers on films have been pushing for awareness, and demanding their safety be seriously considered so that no one else might lose their life as Jones did. This latest video is part of the continued effort to keep the safety of those out of the spotlight in focus.
R.I.P Sarah Jones.
Our thoughts continue to the Jones family as well as Sarah's friends and colleagues.
Staff writer at CinemaBlend.
Your Daily Blend of Entertainment News
Thank you for signing up to CinemaBlend. You will receive a verification email shortly.
There was a problem. Please refresh the page and try again.