Sly Stallone Resurrects His Hunter Adaptation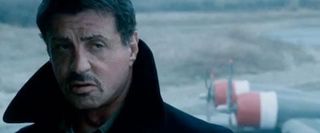 After fading into the background for much of the '00s, '80s and '90s action icon Sylvester Stallone made himself freshly relevant with his nostalgic homage to the supped up flicks of his heyday, The Expendables. With The Expendables 3 already in the works, Stallone is reportedly using his renewed cache to make his long-desired adaptation of the novel Hunter, which centers on an expert's quest to track and kill a mysterious beast that is wreaking havoc on a military installation near the Arctic Circle.
Stallone first acquired the book's movie rights in 2009, and was considering spinning its sci-fi premise of a genetically modified monster into the plot of Rambo V. While the original Hunter follows Nathaniel Hunter, the world's greatest tracker, as he braves the Alaskan wilderness with his pet/sidekick Ghost, a massive black wolf, Stallone was planning on substituting John Rambo and a team of mercenaries in for the hunt. However, when word on this pitch got out, the web swelled with disgust and Stallone was quick to scrap the idea, suggesting Rambo and company would head "over the border to a violent city where many women have vanished" instead.
Since then, the only word that's surfaced on Rambo V was Stallone's declaration that despite producers seeking financing for the feature, he would not return to the role. However, Yahoo South Africa (via /Film ) now asserts that Hunter is back in play, with Stallone in talks to script, direct and star if Lionsgate will finance.
Of course Stallone is more than a beefed up action star - he's also a director, an Oscar-nominated actor and screenwriter. And that's absolutely to be admired. But to be frank, I like Stallone best when he's a bellowing mad man in an action movie that's so wild it barely makes sense, like in Demolition Man. No joke: I love Demolition Man, and I love that he's game for these kind of big and bold thrill rides. So, personally, I'm eager to see 66-year-old star sneer as he treks through a snowy wilderness hunting down a beast that may be the world's greatest murder machine. While it would have been a genre jump, it's easy to see why Stallone was thinking this would be natural leap for Rambo, but having him shoulder this sci-fi action movie that pits the aging muscle man against a science-gone-wrong killer creature is enough for me.
Your Daily Blend of Entertainment News
Staff writer at CinemaBlend.