Will Smith Admits After Earth Did Not Go As Planned At All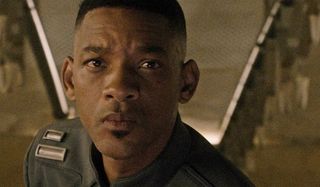 After Earth was a disaster of cataclysmic proportions, and Will Smith knows it. The sci-fi post-apocalypse film that starred the Wild Wild West star and his son Jaden was bashed by critics and audiences alike. Though, recently Smith Sr. had some choice words to say about the film that he calls the "most painful failure in my career."
The actor/rapper recently spoke with Esquire for an in-depth interview about his career, during which he let what he really thinks about After Earth be known:
Will and Jaden have worked together on The Karate Kid (which is currently getting a sequel) and The Pursuit of Happyness. But After Earth only made half as much money as the former release did its opening weekend. The film was made on a $130 million budget, and it only hit $27.5 million on its opening weekend. To put that into a more painfully real perspective, this number falls in line with other sci-fi box office bombs, such as the Taylor Kitsch movies John Carter and Battleship. To this day, it sits at $60.5 million (domestically) and an underwhelming 11% rotten on Rotten Tomatoes.
As Smith describes, he was depressed to read the opening weekend box-office results. However, working on something like this taught a valuable life lesson. Shortly after the After Earth bomb dropped, he got a phone call informing him that his father had cancer. It was this event, combined with drive to have #1 movies, that forced him to look inwards and reevaluate his life. As he says, he stopped working for about a year and a half, and realized -- in a very rom-com (or poetic) sort of way -- that love was all he needed to fill that gap in his heart.
While out on a press tour for his latest film, Focus, which co-stars Margot Robbie, he talked a little bit more about the After Earth experience. As quoted by The Daily Beast:
On the docket coming up, Smith will feature in Peter Landesman's football concussion drama opposite Alec Baldwin and Luke Wilson. But perhaps his most highly anticipated work in progress is Suicide Squad. He'll appear as the iconic DC comic book villain Deadshot, while his Focus co-star will be Harley Quinn, Jared Leto will be our new Joker, Jai Courteney will be Boomerang, model turned actress Cara Delevingne will be Enchantress, and Viola Davis and Jesse Eisenberg will reportedly appear as Amanda Waller and Lex Luthor.
Your Daily Blend of Entertainment News