Smurfs Movie Will Be Set In A Little Girl's Bedroom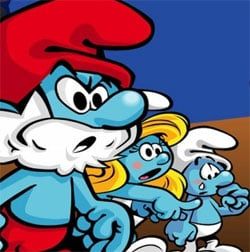 The live action Smurfs movie has started casting and they aren't looking for little blue people. Put down that spray paint Verne Troyer. Odds are the Smurfs will be CGI or something, but the movie will contain humans. That's right I said humans. In the Smurfs cartoons the only human involved was the evil wizard Gargamel, but for the live action movie it looks like they're going a different direction. Specifically, they're casting kids.
Backstage has a casting notice posted by Sony Pictures Animation in which they describe two specific roles they're looking to fill. Here's what Sony's looking for:
So if you're hoping for a magical movie set in a remote, fantasy village full of Smurfs under assault from an evil wizard, forget it. It looks like they're taking the Smurfs out of their fantasy environment and turning them into Alvin and the Chipmunks. Instead of mushroom huts hidden in the weeds, they're plopping them down in the real world where they'll hang out with awkward kids and video game obsessed teenagers.
Your Daily Blend of Entertainment News