Someone Big Just Bailed On London Has Fallen Before Shooting Even Started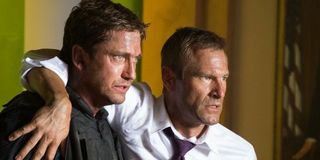 London Has Fallen, the upcoming sequel to the surprise 2013 hit Olympus Has Fallen, has lost its director just six weeks ahead of shooting and only a month after he was hired.
Fredrik Bond, who replaced Antoine Fuqua in the hot seat for the action extravaganza, has left the project over creative differences with the studio, Millennium. According to the Hollywood Reporter, a spokesperson confirmed Bond's exit on Thursday evening.
It has since been speculated that Bond had struggled to adjust to the big-budget world of action cinema since coming onboard. He'd only previously overseen production on the 2013 indie drama Charlie Countryman, which starred Shia LaBeouf, Evan Rachel Wood and Mads Mikkelsen, as well as a bevy of commercials, The differences are thought to have become abundantly clear when the film's schedule accelerated, and an insider has since confirmed that Bond just wasn't allowed the preparation time he desired.
Millennium's sources have announced that they are hoping to have a new director in place by the end of the weekend. It's also been reported that Gerald Butler, who will star as Mike Banning, the secret service agent tasked with protecting the President, will have a huge say in who gets the position alongside producer Mark Gill. However, rather worryingly, there haven't been any names linked with the spot yet, and it's already been suggested that if the void isn't filled almost immediately then the film's schedule might have to be rearranged. Despite all of the hoopla surrounding Bond's brief tenure on London Has Fallen, the split is thought to have been amicable.
Whoever they pick will only have a small window to work with before shooting begins at the end of October. However there is a little leeway for the new director, as he will only have four weeks of production to contend with at this point, which will just involve the principal actors, Morgan Freeman, Aaron Eckhart, Angela Bassett, and Melissa Leo. There will then be a hefty break of around two months, which is when Butler will step into the fray. Filming has been broken into two slots in order to accommodate Butler, who is currently filming Dean Devlin's Geostorm over at Warner Bros. and Skydance.
London Has Fallen, which was been scribed by Creighton Rothenberger and Katrin Benedikt, will once again see Butler's Banning trying to save the life of Aaron Eckhart's American president, Benjamin Asher. But this time, rather than being set in the White House, he will do so in London, where, alongside Morgan Freeman's speaker of the House and several other world leaders, he is attending the funeral of the British prime minister. Millennium will be hoping that it can match the original's rather impressive box-office haul of just over $160 million, which came from a budget of $70 million. But if these production problems persist, then London Has Fallen's reputation could be tarnished even before it hits cinemas. Let's hope that it doesn't get that far.