Someone Died On The Set Of Martin Scorsese's New Movie Silence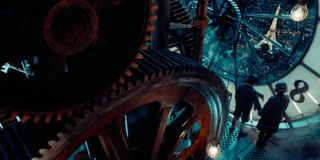 Just yesterday, a terrible tragedy occurred on set of Martin Scorsese's upcoming film, Silence, when a ceiling collapsed at the Chinese Culture and Movie Center during pre-production in Taiwan. The accident left two Taiwanese construction workers injured, and one pronounced dead at the hospital.
Emergency services were called to the set directly after the accident, and officials say that the two men who survived suffered leg and head injuries. A building on the CMPC Studios backlot had been deemed unstable, so an independent contractor had been hired to reinforce the structure and make it safe. CMPC studios made a statement about the incident to The Hollywood Reporter saying:
The studio has also issued that the accident is not expected to affect the shooting schedule. But, the entire production team is shocked and saddened by the unfortunate incident. A Taiwanese spokesman for the film said that director of the film, Martin Scorsese regrets the incident and is also deeply shocked and upset by the death.
It is deeply unsettling that an accident like this would occur so soon in the filming process. Martin Scorsese has been working on this film for almost two decades, and had just recently set the finances in order. Silence stars Andrew Garfield, Adam Driver and Liam Neeson. The film is an adaptation of a 1966 novel of the same name by Japanese author Shusaku Endo. The trio play Jesuit priests in 17th century Japan when suddenly Neeson disappears, forcing Garfield and Driver to search for him out of their comfort zones, and into a foreign land that isn't particularly friendly to Christians at the time.
The film has previously had some setbacks, first to star Ken Watanabe, who unfortunately dropped off the roster to pursue his lead role in the Broadway revival of The King And I. It was also set to release in November of 2015, but had to be pushed back. Scorsese has worked tirelessly to bring his passion project to life, and it's incredibly upsetting that an accident like this would occur right when it gets a foot on the ground. Principal photography was scheduled to begin on January 30th. Representatives of CMPC Studios, insist that everything will still be on schedule, but we'd imagine they are at least taking a few days off. The film is still due to release sometime in 2016.
Your Daily Blend of Entertainment News
Thank you for signing up to CinemaBlend. You will receive a verification email shortly.
There was a problem. Please refresh the page and try again.