Sony Actually Outbid Two Other Movie Studios To Make A Movie Based On Emojis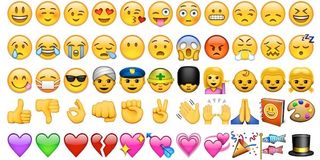 If you've ever looked at your local movie listing, seen the slew of remakes, reboots, and adaptations, and thought to yourself, "Damn, they'll make a movie about anything," you have no idea. Sony is apparently going to make a movie based on Emoji—yes, those wacky little cartoons you use to punctuate text messages—and not only is this a thing that is happening, they emerged victorious out of what became a heated bidding war for the rights.
Deadline reports that Sony Pictures Animation has won a three-way fight, also reportedly involving Warner Bros. and Paramount, for a pitch that revolves around Emoji. The deal was worth "near seven figures," and the details certainly make it sound like those winking faces, thumbs up, and piles of poop with eyes are going get the movie treatment before too long.
Part of the attraction for Sony is that these little social media add-ons, which originated in Japan, have both become super popular across a wide range of demographics around the world, and don't require the purchase of any additional rights.
There may be another reason why Sony went after this so aggressively and with such zeal, and why they might act quickly to turn this around. According to the report, there is another similar pitch that is going to hit the market in short order. That's right, we might be in for dueling Emoji movies in the very near future.
This project also sounds like it has a solid base already in place from which they will be able to launch fast. Eric Siegel, a writer and producer behind shows like TBS' Men at Work, and Anthony Leondis, who directed Kung Fu Panda: Secrets of the Masters, among others, pitched the project. They even came armed with narrative idea and storyboards to match. Leondis, who recently completed work on B.O.O.: Bureau of Otherworldly Operations featuring voices like Bill Murray, Melissa McCarthy, and Seth Rogen for DreamWorks, will also direct.
In recent years we've seen movie adaptations for other properties with little or no inherent narrative—have you forgotten that they turned Battleship and Ouija into feature length films already? I guess Emoji has at least as much potential as Play-Doh, and that got a director the caliber of Paul Feig interested enough to take the job, so what the hell, why not make an Emoji movie and prove that you really can make a movie about anything?
Personally, I'm waiting for a Wacky Wall Crawler movie. They could be an invading force from outer space and fall from the heavens, land on skyscrapers, and wobble their way to the ground. We can hash out the specific details later. I should get to work on this pitch before someone else jumps on this idea. But I've always got my backup: Silly Putty: The Motion Picture.
There's no word on when we could see this Emoji movie, but we're curious to see exactly where this goes. And if there is in fact a competing project, it's possible we won't have to wait too long.
Your Daily Blend of Entertainment News