Kung Fu Panda 3's New Trailer Reveals The New Villain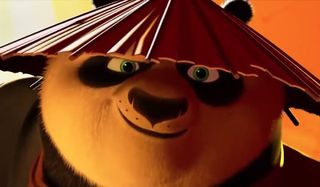 The first Kung Fu Panda 3 trailer has arrived, and even though it's in Chinese, the footage is still awe-inspiring. Even better, though, is that the villain is finally revealed! Po, Tigress, Monkey, Mantis, Viper and Crane are up against...one mean-looking minotaur. Watch the trailer below.
The official plot synopsis for Kung Fu Panda 3 was pretty vague: in continuing his "legendary adventures of awesomeness," our jolly Panda must face two threats, one of which is supernatural and the other close to home. The latter we found out earlier to be the presence of Po's father, Li (voiced by Bryan Cranston). He's the master of hanging out and has been absent for most of his son's life. It was only through a promise he made to his dying wife that he would reunite with his son. This will, no doubt, cause some problems with Mr. Ping, Po's adopted father. Now with the first Kung Fu Panda 3 trailer, we can see what this other more menacing challenge is.
Not much is known about this mysterious creature shrouded in green light, but he looks like the biggest and most powerful threat these warriors have ever faced. He wields what appears to be blades attached to the ends of chains, like Kratos in God of War, and he's even strong enough to shot put a massive stone statue. And with his glowing eyes, he certainly seems supernatural.
Putting this beastie aside for a moment, the trailer makes this film look like a luscious animated painting, perfect for anyone's zen garden. In terms of story, though, there are still a lot of secrets remaining close to the vest. Who and what is this strange minotaur? Where did he come from and how can Po and co. send him running back with his tail between his legs?
DreamWorks Animation moved the released date around for this next sequel a couple times. The latest move pushed it out of 2015, where it would've competed with Star Wars: The Force Awakens for box-office dominance, into 2016. That said, we know there's even more of a personal component on top of everything that's going on. Po discovers that there are a lot more pandas like him than he thought in the world. In addition to the returning voice talent of Jack Black, Angelina Jolie, Jackie Chan, Seth Rogen and Lucy Liu, there's also Rebel Wilson voicing a panda named Mei Mei, who's super into ribbon dancing.
Kung Fu Panda 3 hits U.S. theaters on January 29, 2016.
Your Daily Blend of Entertainment News
Thank you for signing up to CinemaBlend. You will receive a verification email shortly.
There was a problem. Please refresh the page and try again.