Sony Blames Sex Tape's Title For The Poor Box Office Performance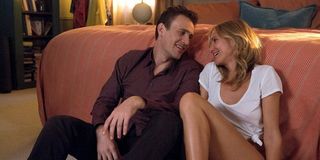 Sony was always going to be facing an uphill battle when it came to releasing a movie called Sex Tape. Even with the R-rating, movies that feature sex in the title usually perform poorly, mostly because it implies a certain bawdiness. Sony distribution chief Rory Bruer apparently concurs, given his reaction to the dim opening weekend for the Cameron Diaz/Jason Segel comedy.
Sex Tape, in case you missed it, opened to only $15 million this weekend - despite industry analysts expecting much more. And Rory Bruer is facing some buyer's remorse, doing a bit of Monday morning quarterbacking in regards to that hot-button title, telling The Hollywood Reporter ,
It's true that, unlike other contemporary "date movies," there's no inherent meanness or cruelty at the heart of Sex Tape - which finds a married couple attempting to spice up their love life, only to allow the titular video to reach the wrong hands (basically, anyone with eyes). But if you were the least bit tech-savvy, you'd have to wonder how the movie is more than a half hour long.
But that title... Sex tapes are ultimately the sort of thing people know about, but discuss in hushed terms. Sony figured they were tapping into something pervasive within the culture, of lovers making each other dirty videos. Perhaps they were, but that's not the sort of detail people choose to discuss. A sex tape can make you famous, sure, but after that people work to help maintain your fame, but no one dares mention its origins again. The word "sex" is still a filthy word to some. Some believe it's best kept in the bedroom. Others think it's a sin! Whether you were 15 or 45, you probably felt pangs of shame if you bumped into your folks on the way to see a movie called Sex Tape. We can still see movies where all of humanity perishes horribly, but a comedy featuring two loving people working on their marriage is "immoral."
Regardless, this is something of a low-impact mulligan for all involved. Cameron Diaz is still a couple of months removed from the $193 million worldwide success of The Other Woman, and the fact that she's huge overseas should assist the $40 million-budgeted Sex Tape. The film did receive pretty bad reviews, though, and the C+ Cinemascore didn't help. But director Jake Kasdan last collaborated with Diaz (and Jason Segel) on Bad Teacher, and that film also had rough reviews and a C+ Cinemascore. In other words, sometimes it's completely up to chance when one not-great movie is successful, and another is not.
Your Daily Blend of Entertainment News
Thank you for signing up to CinemaBlend. You will receive a verification email shortly.
There was a problem. Please refresh the page and try again.