Sony Picks Up Another Alien Invasion Movie After Battle: Los Angeles Success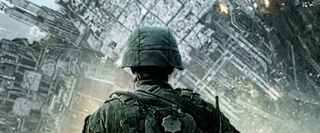 Despite a fairly savage reception from critics-- Roger Ebert's pan is particularly epic-- Battle: Los Angeles was a fair-sized hit for Sony over the weekend, bringing in $36 million and kicking off what I, at least, see as a sci-fi revival. Both Battle director Jonathan Liebesman and star Aaron Eckhart have talked openly about how much they'd like to make a sequel, but in the meantime Sony is moving forward with a different alien invasion story, this one titled Agent OX and from writer Daniel Kunka.
According to Variety, Battle: LA producer Neal Moritz will also be on board for this one, which depicts an alien invasion of Earth from the perspective of a human spy living on the alien planet that's planning a hostile takeover. Having no idea what Liebesman wants to do for a Battle: Los Angeles sequel, I doubt Sony has picked up this script in order to adapt it for that purpose, but you really never know what kind of ideas they might come up with. Either way, between Battle: LA and the lingering success of District 9, Sony is single-handedly keeping the alien invasion genre alive.
Staff Writer at CinemaBlend
Your Daily Blend of Entertainment News
Thank you for signing up to CinemaBlend. You will receive a verification email shortly.
There was a problem. Please refresh the page and try again.