Sorry Transformers, Furious 7 Just Shattered Your Impressive Global Box Office Record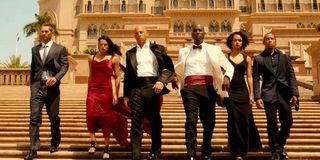 Furious 7 is now the new reigning king of the global box office. The high-octane action movie just surpassed Transformers: Age of Extinction as the highest grossing film in China, and it has only been 15 days.
According to The Hollywood Reporter, barely two weeks after opening in China, Furious 7 has already grossed over $2 billion yuan, the local currency. This positions the latest chapter in the Fast & Furious franchise as the newly crowned highest grossing film in China, a top spot previously was held by Age of Extinction.
How exactly does that translate to in U.S. dollars, and does it mean big bucks to the tune of hundreds of millions of dollars? Yes it does. Furious 7 has grossed over $325.8 million in China, while the previous ruler of the Chinese box office, Age of Extinction, earned just $7 million less, with $319 million. Both movies are franchise films with highly successful track records.
It's possible that two factors are contributing to the success of Furious 7. First and foremost, the tragic passing of Paul Walker, who was killed in a car accident while on break from filming the seventh installment of the franchise. Furious 7 is dedicated to the late actor, with a touching tribute in the final moments giving fans a well deserved tribute to the performer who helped build the franchise name to what it is today. Fans, new and old, are undeniably responding to his loss by supporting one of Walker's last films.
Also, and perhaps more trivial in nature, is the irrefutable success of franchise films in general. Moviegoers have responded to franchises like Transformers and the Fast & Furious, because they have become invested in them over multiple movies. Critics may enjoy attacking the screenplays or other aspects of these products, but what really matters by and large is the fans, and they love franchises, which is why movies like Furious 7 continue to see higher and higher ticket sales with each subsequent film. If this is indeed the case, we are likely to see yet another franchise film, Avengers: Age of Ultron, surpass Furious 7 very soon, although there is the undeniable weight of the first factor likely contributing to the success of the film.
It is likely that Furious 7 will continue its reign as the king of the box office in China for the time being. Even accounting for the debut of Avengers: Age of Ultron taking a bit out of ticket sales, the Fast & Furious film will probably hold onto the top spot for at least another several weeks, at which point the other franchise film will likely catch up and take over first place.
Your Daily Blend of Entertainment News
Your Daily Blend of Entertainment News
Thank you for signing up to CinemaBlend. You will receive a verification email shortly.
There was a problem. Please refresh the page and try again.