Fast 8: What We Know About The Fate Of The Furious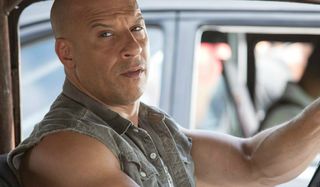 Movies that earn more than $1 billion worldwide tend to produce sequels. As such, Fast and Furious 8 was a no-brainer. Yet, the ridiculously lucrative Furious 7 ended with real closure, and raised some burning questions. Can the series continue following the death of Paul Walker? Should the series tell more stories in the lives of these now iconic screen characters, or is it time to let the Fast & Furious crew drive off into the sunset on one of the highest notes in franchise history?
That conversation -- especially in the Fast & Furious fan community -- is ongoing, but at least we have a definitive answer. Fast & Furious 8 is happening, and it's actually almost here! But there remain a ton of questions about who will be involved both in front of and behind the camera. Let's dig in to all that we already know about the upcoming Fast & Furious sequel:
When Does Fast 8 Open In Theaters?
Once Universal decided that they'd actually be moving ahead with the next Fast & Furious adventure, they went about circling a release date. They needed enough time to finish off a screenplay, and to find a new director, as Furious 7 helmer James Wan was moving on to Aquaman. More on the replacement in a moment, but Fast 8 will open everywhere on April 14, 2017. That means that it will compete against Open Road's animated Spark, as well as Fox Searchlight's Gifted, but that basically means Fast 8 has the weekend to itself.
What Will Fast 8 Be Rated?
We'd have to guess, at this moment, because the movie's deep into post-production now, and we haven't seen any real footage. (A trailer has to drop soon, right?) However, since all of the movies in the franchise have reached theaters with a PG-13 rating, I'd be stunned if Fast 8 was anything but PG-13, as well.
Who Is Directing Fast 8?
This is the first major twist when it comes to Fast 8. The gang is moving forward with a bold new director in F. Gary Gray, who recently delivered the critically acclaimed Straight Outta Compton for Universal. While Gray has a few tense thrillers on his resume, including the underrated The Italian Job and A Man Apart with Vin Diesel, he's never helmed a Fast film before. Thankfully, these are such well-oiled machines, they basically run themselves, right? Right?! The Fast series has been a great proving ground for directors, passing the baton to the likes of Justin Lin (Star Trek Beyond) and James Wan (The Conjuring). We can't wait to see what Gray brings to this table.
Which Cast Members Are Coming Back?
Vin Diesel said it best. These aren't his friends. They are family, which is why cast members keep returning, movie after movie, to be part of whatever madness is cooked up on the streets of the next Furious story. The crew found a way to bid farewell to Brian (Paul Walker) at the end of Furious 7. But that doesn't mean the wheels stop turning. We expect practically everyone to be back for Fast 8, starting with Vin Diesel. Outside of 2 Fast, 2 Furious -- the movie that brought Tyrese into the fold -- Diesel has been a part of every Fast chapter, and it won't end here.
In addition to Diesel, Fast & Furious mainstays Michelle Rodriguez, Tyrese Gibson, and Ludacris will be part of the growing cast. Don't look for Jordana Brewster to return, however, as she recently confirmed that her phone never rang during the production
And, of course, The Rock will be back as Hobbs, the one time antagonist who finally saw the error of his ways and stopped tracking Dominic Toretto long enough to join his crew. Hobbs was largely sidelined in Furious 7 after a bone-crunching fight with Deckard Shaw (Jason Statham). From early photos of The Rock in Iceland -- and behind bars -- we expect him to play a MUCH larger role in this new story. However, The Rock has been making a lot of headlines BEHIND the scenes for stirring the pot and calling out male co-stars for being "candy-asses" on set. Are YOU going to argue with him?
The Kurt Russell Connection
It bears repeating that Furious 7 always was going to be the start of a new trilogy of Fast films, though that plan was changed once Paul Walker died. James Wan confirmed a while back that the original ending of Furious 7 would have led to new stories. But the first real hint we got about Fast 8 came when Vin Diesel appeared on the Jimmy Kimmel show and revealed that supreme badass Kurt Russell was added to part seven as a tease for what the crew wanted to do in part eight. And Vin spoke in the present tense, saying that Russell's covert character, Mr. Nobody, would be a catalyst for events that would follow through in Fast 8.
Paul Walker likely was going to be part of that adventure, and now will not be. But that doesn't mean the show can't go on, and this story line can be put into place. Seeing as how Mr. Nobody now sees the value of this rag tag band of heroic thieves, you just know that he's going to have a handful of missions lined up that require their automotive expertise. We expect Kurt Russell to be pulling several of the strings behind the scenes when Dom (Vin Diesel) and his "family" get back behind the wheel. But Russell isn't the only powerful figure being introduced to this world.
Charlize Theron
Each new Fast & Furious movie introduces a new villain -- from Hernan Reyes (Joaquim de Almeida) to Owen (Luke Evans) and Deckard Shaw (Jason Statham). Fast 8 won't be any different, as we're promised a lethal introduction to Cipher, played by the beautiful Charlize Theron.
Again, Theron worked with F. Gary Gray on that remake of The Italian Job, and she is coming off the similar vehicular madness that was Mad Max: Fury Road. In fact, some harbored dreams that Theron would somehow join the Fast & Furious family as her Mad Max character, Furiosa. Alas, that isn't meant to be, as you can see from the above, official photo. We don't know much about who Cipher is, though we did learn that Game of Thrones star Kristofer Hivju has been cast as her henchman. As long as he fights The Rock at one point, I am 100% on board with this casting.
Theron and Hivju aren't the only new faces in the cast. Let's start with another bad guy... er, girl.
Helen Mirren
Oscar winner Helen Mirren joked, a while back, that she'd love to be part of the Fast & Furious franchise. Who wouldn't, when sitting back on your comfortable couch and watching Vin Diesel and Tyrese launch sports cars out of skyscrapers? Only, because Mirren has such pull in the industry, she made a role in the next Fast movie happen. As with Cipher, we don't know the true nature of Mirren's character. In her case, we don't even know the name! But it's believed that she will be playing a villain, which is tantalizing and perfect, and she also revealed that she'll ride in an ambulance with a key character. The other day, Mirren was talking about being nervous on the set, commenting that because this cast has been at it for so long together, she'll feel like the new kid on the school yard, and won't be able to get over the butterflies. It's adorable that someone as badass and beautiful as Helen Mirren might be intimidated by Ludacris and Tyrese. Someone get Michelle Rodriguez in Mirren's corner, and quick.
Scott Eastwood
The bad guys aren't the only ones adding a team member. Fresh off his stint as a member of the Suicide Squad, Scott Eastwood is throwing his ring into the Furious family. And again, his role is marginally mysterious. Getting that trend from this sequel yet? However, unlike Helen Mirren, who's a complete wild card, we at least know that Eastwood's character will be an associate of Kurt Russell's government stooge, so he may end up being a major ally to Dom and his team down to road.
The Locations
They have become as important to each chapter as the characters, from Abu Dhabi to London and Brazil. This time out, there were three locations that leapt into the headlines as the Fast 8 crew continued to film. On the talk-show circuit, Vin Diesel dropped the interesting nugget that the crew would shift their mission for (or against) Mr. Nobody to the streets of New York City. Which, in my opinion, is fantastic. The Fast & Furious movies always have been an L.A.-based franchise, and Diesel delivered on his promise to return the series to Southern California with Furious 7. But a series that has stopped in so many amazing global cities has yet to invade the Big Apple, and I want to see Toretto's crew try to stay fast in midtown Manhattan traffic. (The "furious" part won't be difficult. New Yorkers are always mad about something.)
But that's not all. The crew also made a big deal about filming scenes in Cuba, though we don't really know what was recorded there. And recent videos released from the set, primarily by The Rock, show scenes being filmed in Iceland. In fact, Hobbs looks to have a massive tanker truck that he's using on the frozen tundra. And, Dwayne Johnson has given himself the nickname The Iceman for this new movie. I think it's going to stick.
Lucas Black's Contract
Those paying attention to the Fast & Furious timeline sync couldn't have been that surprised to see Lucas Black's Tokyo Drift hero, Sean Boswell, return to the screen. Furious 6 revealed that Han was killed by Deckard Shaw (Jason Statham), so Dom pit stopped to Tokyo to meet with Sean, get information on this new threat, and bring Han's body back to Los Angeles for a proper burial. At the time, Black revealed that he had signed up for Fast & Furious parts 7, 8 and 9. Again, plans for the series seem fluid, but if Black was a part of the future story before, I see no reason to think he couldn't be part of the next two chapters, at least. Drift on!
The Eva Mendes Rumor
So far, the Fast & Furious films have made a habit out of bringing familiar faces back into the fold. Michelle Rodriguez was believed to be dead before returning for Fast & Furious 6. We just mentioned Lucas Black, and his presence in Furious 7. So with the timeline realigned now, it makes sense that a recent rumor suggests the return of Eva Mendes's character, U.S. Customs Agent Monica Fuentes, be brought back into the story. As we learned in Furious 7, Dom and his crew now runs in criminal circles that involve the federal government -- or, shadow arms of the government operated by the likes of Mr. Nobody. This could open up several doors for the Furious crew to either have to help Fuentes... or avoid her. Maybe the God's Eye MacGuffin from the latest movie will put Toretto on Fuentes' radar? Maybe Mr. Nobody has a new job for Dom? I think the Fast & Furious franchise will, indeed, go on for quite a while, particularly since Furious 7 broke the bank. Do you?
Sean O'Connell is a journalist and CinemaBlend's Managing Editor. He's frequently found on Twitter at @Sean_OConnell. ReelBlend cohost. A movie junkie who's Infatuated with comic-book films. Helped get the Snyder Cut released, then wrote a book about it.