Transformers: Age Of Extinction Is The Highest-Grossing Movie Of The Year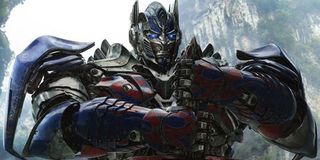 They talked shit, but people went. The reviews were harsh, but people went. Fans said it was the worst so far, but people went. And now Transformers: Age Of Extinction has taken only three weeks to become the highest-grossing film of 2014. I hope you're happy, Planet Earth!
Transformers: Age Of Extinction has grossed a downright-unfair $752 million in only three weeks of release, despite not being available in every territory. What this means is that while the film is slowing down in general release, it's soon to get another big bump and most likely surpass a billion dollars. The movie sent a hat tip in X-Men: Days Of Future Past's direction this weekend, as previously the mutant romp was the year's biggest film at $731 million worldwide. Do I smell crossover? No? Oh, well, I'll keep that to myself.
Transformers: Age Of Extinction collected these grosses in the wake of the audience-sapping World Cup, so while there's an explanation for the movie only collecting $209 million domestically (it's likely to be the first in the series to fail to pass $300 million stateside), that doesn't really cover the $262 million its grossed in China alone, becoming the latest in a string of new movies to gross more in China than America.
So what else is left this summer to surpass a billion? Most are dubious it will happen again. Unless it has crazy legs, Dawn Of The Planet Of The Apes could likely finish anywhere between $500 and $700 million. Beyond that, the industry has high expectations for Marvel's Guardians Of The Galaxy, but so far Iron Man is the only Marvel character to break a billion solo. For those chasing big money weekends, the summer is basically over, unless you want to weirdly cash your chips in for a dark horse like The Giver or The Hundred Foot Journey (not likely).
One needs to check out the end of the year to see possible megahits of that size. The last two movies in the Dark Knight saga collected more than a billion, and Inception landed at $825 million: perhaps Christopher Nolan's Interstellar is the year's biggest attraction. It opens on the same weekend as Disney's Marvel animated film Big Hero 6, which could also be a major attraction. There's also The Hunger Games: Mockingjay Part 1 as well as The Hobbit: Battle Of The Five Armies, both of which have the pedigree to reach those heights; Catching Fire landed at $864 million, while The Hobbit is part of a Middle Earth franchise that has boasted two billion dollar films thus far. It really does seem, however, that in Transformers: Age Of Extinction, we have the year's first and last billion dollar movie.
Your Daily Blend of Entertainment News
Thank you for signing up to CinemaBlend. You will receive a verification email shortly.
There was a problem. Please refresh the page and try again.