Special 35th Anniversary Halloween Blu-ray Will Creep Onto Shelves In September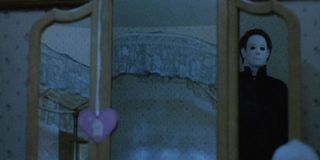 There's a lot of spooky and downright creepy stuff coming for movie fans this fall. Cabin in the Woods is getting its own attraction at Universal Studios in Orlando, and also in time for Halloween, Johnny Knoxville's Bad Grandpa is getting his own Jackass spinoff. I'll leave you to guess which of these is spooky and which is creepy, but if you are looking for your own home entertainment this Halloween, you need look no further than the 35th Anniversary edition of John Carpenter's famous movie Halloween. The Halloween 35th Anniversary Edition will hit Blu-ray on September 24, about a month prior to the time tasteless costumes and candy-oriented events become the norm.
Copies of John Carpenter's Halloween are already available on both Blu-ray and DVD, but what makes the 35th Anniversary Edition a little more special is the cover art, which offers an especially creepy illustration by Jay Shaw and the brand new HD transfer. For the release, Anchor Bay Home Entertainment worked with cinematographer Dean Cundey on an all-new HD transfer of the film. Additionally, a brand new 7.1 audio mix was created for the movie; so if you are into sound, the set should be pretty spectacular.
The film was originally put together as a relatively low budget enterprise, which worked for the movie since it needed few over-the-top special effects, basically telling the tale of a murderer named Michael Myers returning to his hometown in late October, only to stalk a young woman named Laurie (Jamie Lee Curtis). Last year, Halloween got a theatrical re-release—although not in 3D, as has been trendy of late. Now, fans will be able to bring the movie home, and it will come with plenty of bells and whistles.
If picture quality isn't enough to entice you to buy the Halloween 35th Anniversary Edition, there will be a limited edition of the release in book-style packaging (assumedly similar to the Usual Suspects Blu-ray Book release). The collectible and limited edition set will offer 20 pages of photos from the film, as well as an essay by Stef Hutchinson, whose specialization is Halloween.
Both the collectible edition and the regular Blu-ray will come with several brand new bonus features put together just for the release. I'm not always super stoked about audio commentary, but Halloween should be a good movie to delve into the commentary, since it will be a sort of retrospective look at the film. A new featurette will also be available with the set, along with other bonus features. You can pre-order the Halloween 35th Edition Anniversary over at Amazon (opens in new tab) or check out the bonus features, below.
Halloween 35th Anniversary Blu-ray Extras
All-new commentary track with writer/director John Carpenter and star Jamie Lee Curtis
"The Night She Came Home" new featurette with Jamie Lee Curtis
On Location
Trailers
TV & Radio Spots
Additional Scenes from TV Version
Reality TV fan with a pinch of Disney fairy dust thrown in. Theme park junkie. If you've created a rom-com I've probably watched it.
Your Daily Blend of Entertainment News
Thank you for signing up to CinemaBlend. You will receive a verification email shortly.
There was a problem. Please refresh the page and try again.