The Specific Reason Zack Snyder Wanted Christian Bale To Be In Batman V Superman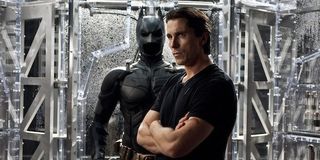 Although the story of Christian Bale's Batman ended with The Dark Knight Rises, when Batman v Superman: Dawn of Justice (then unnamed) was announced, there was speculation about whether he might reprise the Caped Crusader again. Once Ben Affleck was cast as the new Batman, it was clear that this movie is taking place in a different universe from the Dark Knight Trilogy. However, director Zack Snyder did consider including Bale in a different capacity.
Reiterating how Batman v Superman: Dawn of Justice is set in a world separate from the Christopher Nolan Batman movies, Snyder mentioned to FilmInk that he briefly thought about having Christian Bale play a different character in the March blockbuster to break the connection to the previous series. Snyder noted that the new movie is a "total and opposite reality" from the Christopher Nolam movies, adding:
I'm sure I'm not alone in saying that Zack Snyder made a wise decision not bringing Christian Bale back for the rebooted Batman's debut. Although Bale is considered to be one of the best cinematic Batmans (Batmen?), Batman v Superman: Dawn of Justice is coming out only four years after The Dark Knight Rises. Including him in the new movie would have just drawn unnecessary attention to him being a former Dark Knight not long ago.
This isn't like what Superman Returns did with featuring Noel Neill and Jack Larson, who played Lois Lane and Jimmy Olsen, respectively, in the 1950s Adventures of Superman TV series, in cameo roles. It wasn't immediately obvious (if at all) to most fans who they were, especially if they've never seen that show. With Christian Bale, it would have been glaringly obvious if he showed up in the midst of this new continuity, whether it was in a cameo or supporting role. If the DCEU is still around a decade from now, maybe they could include him in a non-Batman related move, but for now, it's as they say, it's too soon.
After 1997 disappointed us with Batman & Robin, Christian Bale helped reinvigorate the Batman movie franchise eight years later with Christopher Nolan's Dark Knight Trilogy. This series followed Bale's Batman from his first time donning the cape and cowl in Batman Begins to fighting The Joker in The Dark Knight to saving Gotham City as his final act of heroism in The Dark Knight Rises. While Bale's Batman did earn praise from many fans and critics, the actor recently said that he "didn't quite nail" his version of the Caped Crusader. So even if including Bale in Batman v Superman: Dawn of Justice as a different character had moved past a concept, he may not even have wanted to return to that kind of world.
If you're ever eager to see Christina Bale in the world of Batman again, those Dark Knight Trilogy entires are always available in one for or another, and they make for a good re-watch. As for Batman cinematic future, that now rests in Ben Affleck's hands. Batman v Superman: Dawn of Justice hits theaters in just a few weeks on March 25.
Your Daily Blend of Entertainment News
Connoisseur of Marvel, DC, Star Wars, John Wick, MonsterVerse and Doctor Who lore. He's aware he looks like Harry Potter and Clark Kent.