Spider-Man Casting: Has Marvel Found Its Next Webslinger?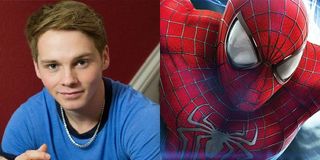 UPDATE: It turns out, according to The Wrap that the role that Sam Strike is currently in talks for is the lead in the upcoming Texas Chainsaw Massacre prequel; not Marvel Studios' Spider-Man as rumored.
Our original report in its entirety is below
It appears that new vibrations have struck the web of rumors surrounding the casting of Sony and Marvel Studio's new Spider-Man. While a wealth of young stars have been offered up to potentially play the Wall Crawler, the latest speculation has shifted the focus to a seemingly new candidate named Sam Strike. The young actor is known over in the UK from the teen soap drama, Eastenders and judging from an array of evidence, Strike is headed to Hollywood to tackle a "cheeky" role which sounds a lot like Spider-Man. Is it?
While the name Sam Strike isn't currently Cumberbatch-esque as far as UK-based stars in The States, if the latest rumblings prove accurate, it could very well become elevated to a household level. Just last December, the 21-year-old Strike wrapped up a 122-episode run on the popular soap, Eastenders amidst rumors suggesting that, like so many young Brit actors as of late, he was Hollywood-bound. However, this tweet from Strike's manager, Lee Morgan has the Internet thinking "Spider-Man" after a previous tease promising "exciting news,"
One may ask why the words, "lead role in a very big US film" lead many to believe that this is for the upcoming new rendition of Spider-Man, who will reportedly debut in next year's Captain America: Civil War. While it is purely speculative, evidence, circumstantial as it may be, seems to have the idea of both Marvel and Spider-Man becoming a recurring theme for Strike. A Spider-Man mask-donning selfie Strike posted on Instagram 4 months back (just about the time he happened to be wrapping up Eastenders) would also be supplemented by a number of tweets that would prove contextually provocative for a young actor of his description who is apparently on the verge of a huge breaking role. Most noteworthy of the bunch, is this recent tweet briefly hinting at his preparation for the clearly-exciting role that just screams "Spider-Man."
While recent rumors seem to imply that the Spider-Man we'll see in the Marvel Cinematic Universe may not be traditionally Caucasian, or, for that matter, Peter Parker, at all, one would have to think that this joint venture between Sony and Marvel would still want to put their best foot forward and not take a risk by using their historical agreement to experiment with a non-classic version like the "Ultimate" universe's Miles Morales Spider-Man. Coincidentally, you know who else publically agreed with this notion? Sam Strike!
So, is the idea of Sam Strike as Spider-Man solid, at this point? Well, in all candor, the answer would have to be "no." This case is admittedly held together with the glue of conjecture. However, a lot of people with deep sources, including Latino-Review are corroborating this narrative, saying that Strike is "within the age range" that Marvel is looking, which could indicate that this Spider-rumor has more than just two legs. Indeed, Strike, a young, relative unknown with dramatic experience and the right look seems to be a pretty solid candidate for a Peter Parker Spider-Man.
We'll likely find out the truth sooner, rather than later, since Spider-Man's big debut in the MCU in Captain America: Civil War is quickly approaching when it thwips its way to theaters on May 6, 2016.
Your Daily Blend of Entertainment News
Thank you for signing up to CinemaBlend. You will receive a verification email shortly.
There was a problem. Please refresh the page and try again.