Spike Lee's Oldboy Gets Pushed Back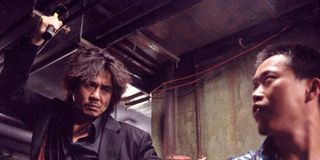 We're not really sure what to expect from Spike Lee's adaptation of the Manga Oldboy, but we now know we'll have to wait even longer to finally see it. The thriller's domestic distributor FilmDistrict has bumped back its release date by two weeks, moving the feature from October 11th to October 25th. Formerly, Oldboy was set to face off against the Tom Hanks-fronted biopic Captain Phillips, the horror pic Haunts and the recently moved Wikileaks docudrama The Fifth Estate. But the 25th is presently far less crowded, with the only other film slated to open being season-regular Paranormal Activity 5.
Hopefully this newly minted release date will be followed by an actual look at the film. So far, we've only gotten seen a teaser poster that leaves a lot to the imagination. Sure, having seen the widely praised Park Chan-wook version, we know the plot: a man is mysteriously abducted, held against his will for years, then released, never knowing why. He goes on a search to find the answers and…let's just say things get severely fucked up.
That said, Elizabeth Olsen, who co-stars in Lee's version alongside Samuel L. Jackson, Sharlto Copley, and Josh Brolin, has said this remake is pulling inspiration more from the original Manga than from Park's film. Aside from the American setting, she notes their version also takes place 10 years later than Park's and so suggests more advanced technology will be involved. But without any images released, we really have no idea what this means. It's about time we got a proper poster or some stills or a teaser trailer. Right? Just give us Samuel L. Jackson scowling and saying something ominous, and we'll be good...for a bit.
Staff writer at CinemaBlend.
Your Daily Blend of Entertainment News
Thank you for signing up to CinemaBlend. You will receive a verification email shortly.
There was a problem. Please refresh the page and try again.