Elizabeth Olsen Explains Changes For Spike Lee's Oldboy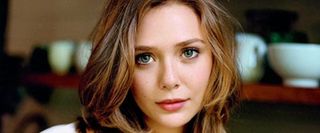 There's a special kind of frustration that movie fans suffer when a foreign feature that was blazingly original and deeply affecting becomes the source of a hyped up American remake. In some ways, it feels like these rebooted movies not only misunderstand what was special about the original, but also attempt to whitewash over some of their more extreme aspects to sanitize the remake for broader audience appeal. However, since Spike Lee is such a notorious fan of taboo, his proposed remake of Park Chan-wook's Korean revenge thriller Oldboy was met with slightly less disdain upon its announcement. And buzz on the film has only improved as he's lined up a cast that includes Josh Brolin, Samuel L. Jackson and Elizabeth Olsen.
Still, can Lee's Oldboy possibly top the already adored original? Well, maybe it doesn't have to. Olsen recently sat down with Empire Podcast, and revealed:
She went on to detail some other differences from the first film, explaining that the setting of Lee's Oldboy is "a non-descript city in America," and given that it's taking place 10 years after Chan-wook's film, there are some technological advancements worth noting. "It's practicalities that have had to change," she added. Still, the basic premise remains: a man is captured and imprisoned for years in a private cell with no idea why or by whom. When he is unceremoniously set free, he attempts to unravel he mystery of what happened to him. Brolin will play this perplexed prisoner, while Olsen will play Marie, a caseworker that investigates his past.
It's an interesting argument to say that Lee's will be more like the book. The same was said of David Fincher's The Girl With a Dragon Tattoo, which was released just two years after original Swedish adaptation. But Olsen more directly compares the differences between these Oldboys to the celebrated Swedish horror drama Let the Right One In and its American counterpart Let Me In, saying, "Those aren't the exact same films, but they're just a different take on the same story."
This is not a comparison that is likely to generate enthusiasm. Admittedly, Matt Reeves' Let Me In garnered largely positive reviews, but its box office was unimpressive and it received nowhere near the level of praise of Let the Right One In, which earned coveted BAFTA and Goya nods. And ultimately despite some surface differences (a shift in time and place), Let Me In still seemed a pale imitation of its predecessor. So, she might want to pick a better example before press on Oldboy really gears up.
Spike Lee's Oldboy is now shooting, and is expected to hit theaters in 2013.
Staff writer at CinemaBlend.
Your Daily Blend of Entertainment News
Thank you for signing up to CinemaBlend. You will receive a verification email shortly.
There was a problem. Please refresh the page and try again.