Spike Lee Walks Back All Of That Oscar Boycott Talk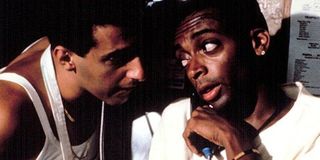 Spike Lee wants to make one thing clear: he never said he was boycotting the Oscars. In fact, the lauded filmmaker wants you to know that the reason why he won't be attending the 88th Academy Awards next month is because he'll be at Madison Square Garden watching the Knicks.
On Monday, Spike Lee took to his Instagram account to reveal that he and his wife would not be attending the Oscars, while also criticising the Academy for the fact that all of the acting nominees were white. But the Do The Right Thing director believes that, since uploading his post, his words have been somewhat twisted.
Spike Lee stopped by Good Morning America (via The Hollywood Reporter) on Wednesday to add to his remarks, telling George Stephanopoulos that he simply has other plans on Oscar night and that he's not encouraging anyone to "boycott" the ceremony.
Spike Lee's comments were made after the Academy Award acting nominations were exclusively white actors for the second year in a row. Alongside Lee's remarks, Jada Pinkett Smith also declared that she would not be attending the ceremony too, and there has been pressure on Chris Rock to pull out of hosting the ceremony.
During his round of questioning with George Stephanopoulos, Spike Lee was also asked whether or not Chris Rock should drop out; to which Lee gave the perfect response, "Chris Rock is a grown-ass man. He can do what he wants to do, and I support either way."
To complicate matters even more, Spike Lee was actually presented with an honory Oscar at the Governors Awards back in November. At this event, Lee heard Cheryl Boone Isaacs, the Academy president, declare that there would be changes and a reform in the Academy membership, which is not only 94% Caucasian, but also 77% male.
Not only did Spike Lee insist that we can't expect this change to happen overnight, but he also believes that attacking the Academy won't do too much anyway. This is because the larger issue is that not enough films starring diverse casts are being made, so there needs to be a wholesale change from studios across Hollywood in order to make an alteration possible.
Spike Lee proposed that something similar to the NFL Rooney rule, which means that at least one minority candidate has to be interviewed for a head-coach position, should be implemented. You can expect numerous other solutions to be suggested in the coming weeks, as Hollywood and the Academy finally try to address this imbalance.
The Academy Awards will take place on February 28, 2016, while at the same time the New York Knicks will be hosting the Miami Heat.
Your Daily Blend of Entertainment News