Stan Lee Will Continue His Marvel Movie Cameo Hot Streak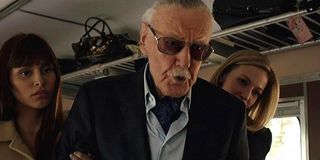 Considering everything that Marvel has accomplished with the evolution of their movie universe, there is one aspect to all of their films that are undeniably indelible: their cameos by Stan Lee. Well, according to "The Man," himself, that trend will only continue with next year's Captain America: Civil War.
Speaking in front of a crowd of admiring onlookers at the Dallas Comic Con on Sunday, Marvel's esteemed Generalissimo, confirmed that filming for Civil War has already checked one critical scene off the list in the obligatory Stan Lee cameo. According to Lee:
Going way back to the 1989 TV movie The Trial of the Incredible Hulk, the concept of a cameo by Lee has become the smile-inducing moment in almost any Marvel property, regardless of the studio, that not only pays homage to the comic book visionary, but usually puts him in hilariously awkward situations. The practice may not have started with the intention of becoming a long, celebrated tradition, but it has come to represent the unofficial signature stamp of each film, identifying it as a Marvel property, even on its television offshoots.
In fact, as the video below demonstrates, just about every Marvel movie made in the modern era, beginning with X-Men in 2000, has featured a Stan Lee cameo of some sort. Yet, interestingly enough, Lee used to abide by a rule regarding his cameos, only appearing in properties in which he had a hand in creating. This explained his notable absence from 2009's X-Men Origins: Wolverine and 2013's The Wolverine. However, that all changed with his cameo in last year's Guardians of the Galaxy, which occurred despite his misgivings over not knowing the team. With Civil War, his streak for appearing in every movie made by Marvel Studios will remain intact.
Lee is coming off a cameo in Avengers: Age of Ultron that proved to be his most visible yet, interacting with the Avengers team in an ill-advised experiment with Asgardian ale. However, while no clues have been provided regarding his next cameo in Civil War, he'll be part of a film that presents an intriguing mix of elements. Adapting the Marvel Comics storyline of the same name, the film should be filled with moral ambiguity and potentially off-the-charts action, pitting our heroes of The Avengers against one another. Having successfully nabbed Stan Lee, the film is also currently in the midst of a search for a young actor who will play the Marvel Cinematic Universe version of his most famously beloved creation, Spider-Man.
While there may not have been much doubt surrounding the possibility of this next Stan Lee cameo, it does manage to sooth the soul of many a fanboy to know that yet another side-splitting scene can be anticipated. Based on everything that's known about Civil War, it can use all the levity it can find, since it will be anything but a fun-filled romp. Indeed, some bad blood between our heroes will surface in a destructive way when it hits theaters on May 6, 2016.
Your Daily Blend of Entertainment News