Star Trek Beyond Invites Fans To Play A Role In The Movie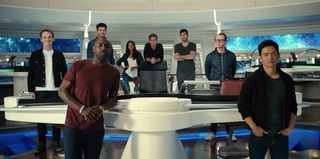 Not to be outdone by Star Wars: The Force Awakens and their Force For Change charity work, that other beloved Star franchise, Star Trek, has developed it's own philanthropic endeavor in conjunction with the upcoming Star Trek Beyond. And not only do you get to help out a ton of fantastic organizations doing good work, in addition to that warm and fuzzy feeling, you can win a walk on role in Star Trek Beyond.
The cast and crew of the Justin Lin-directed sci-fi film have partnered with Omaze for the Star Trek: To Boldly Go campaign which will raise funds to support nine different causes and organizations handpicked by the cast themselves. For a donation of just $10 you'll be entered to win one hell of a prize. They'll fly you and a guest to Vancouver, BC, where Star Trek Beyond is currently filming, put you up in a four-star hotel, and let you run around the set hugging Simon Pegg and Idris Elba (at least that's what I plan to do when I win). Then you'll get all gussied up by the hair, makeup, and costume people and be part of a scene in the movie, which is awesome. This contest was just announced, runs from today through 11:59 Pacific Time on September 1, so you better get cracking.
Check out this hilarious video the cast made to celebrate the To Boldly Go launch.
Not only is this video a pretty good time, where you get to see all the core cast members together again, including Chris Pine, Zachary Quinto, Zoe Saldana, John Cho, Simon Pegg, Anton Yelchin, and Karl Urban, all being weirdoes, but it teases some stuff about the movie as well. They're obviously on the set, which means this is our first real look at Star Trek Beyond, though, to be honest, it looks a lot like the Enterprise from the first two movies.
Pegg, who we know co-wrote the script with Doug Jung, indicates that, should you win and wind up on set, you'll encounter some new characters. He likely means Idris Elba's villain, but could include Sofia Boutella's as yet unknown character, one of the other potential characters we've heard rumors about, like Bones' ex-wife or a tough rival starship captain, or perhaps someone else entirely.
While it's not a surprise that Idris Elba is on set, we've known he's going to be in the movie for some time, this is our first look at him in context, and it's cool to see interacting with other cast members. Also, I never knew that I wanted to see Idris Elba breakdance on the bridge of the Starship Enterprise, but now I can check that off of my list of life goals.
From what we know about the plot of Star Trek Beyond, it picks up with the crew of the Enterprise in the midst of their traditional five-year voyage of exploration, which will be a welcome change from the Earth-centric stories of the last two films. Currently filming, Star Trek Beyond is scheduled to boldly go into theaters on July 8, 2016.
Your Daily Blend of Entertainment News