Idris Elba Reveals Star Trek Beyond Details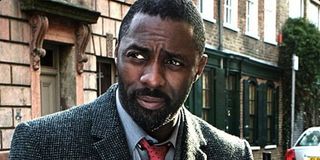 We're almost exactly a year away from Star Trek Beyond, the third installment in the rebooted Star Trek franchise, and we don't really know much about the movie. This time around, Idris Elba plays the new big bad, and the actor just revealed a sprinkling of new details, mostly involving one iconic character he'll share the screen with.
Talking to TV3, the 42-year-old actor comes across as super excited to be a part of the Star Trek family, and is especially pumped about some upcoming scenes in particular. He said:
Obviously, this doesn't tell us all that much about Elba's character. Okay, it doesn't actually tell us anything about that, but it will be cool to see Elba and Quinto go head to head on screen. That's worth getting excited about. The Thor star is known for the intensity he brings to his roles, while Quinto's take on Spock has a wry edge, and this combination should prove to be a lot of fun to watch.
Since the very beginning, the prevalent rumor has been that the Klingons will be the main villains in Star Trek Beyond. This is something that pleased many devotees of the franchise, as the fan favorite race hasn't shown up in any meaningful way in the rebooted universe. Basically, we've been waiting for that to happen.
Early drafts of the script that people claimed to have read definitely included the Klingons in a significant antagonistic capacity, at least according to internet scuttlebutt—make of that what you will. However, that doesn't necessarily mean that Idris Elba plays a Klingon. The scripts people saw were early versions, when Roberto Orci was still on board as both writer and director. He has since parted ways with Paramount over the direction of the Star Trek franchise—he remains a producer, but has little creative input. Star Simon Pegg took over the scripting duties with Doug Jung, and he has publicly said that Elba is not a Klingon.
Granted, we still remember the "Benedict Cumberbatch is not Khan" debacle from Star Trek Into Darkness, so we have to take everything with a grain of salt. Still, Pegg and Jung only turned in their draft right before filming began, and Pegg said they made drastic changes to the already extant script, cutting huge chunks, adding even more, and reshaping the whole thing. At this point there's no telling what the story entails.
Whatever the true nature of his character, Idris Elba, as a long time fan, is plenty stoked to be aboard. He said:
Now directed by Fast & Furious' Justin Lin, Star Trek Beyond is currently filming in Vancouver, BC, Canada, and as far as we know, the story still picks up with the crew of the Enterprise in the midst of their legendary five-year mission to explore new worlds. This is something else that fans have been waiting for.
Star Trek Beyond hits theaters on July 8, 2016, just in time to celebrate the franchise's 50th anniversary (The Original Series premiered in September 1966).
Your Daily Blend of Entertainment News