Check Out Star Trek 3's New Starfleet Logo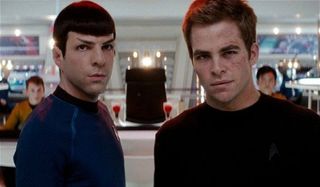 After a good long wait, Justin Lin's Star Trek Beyond has finally arrived at the production stage, and the director of the project has celebrated the first day of shooting by debuting our first look at the Starfleet logo on set. You can take in the sleeve art in all of its glory below.
That looks pretty sweet to me! There's a cheapness and a nostalgia to the logo that instantly makes you imagine the 1960's television series, and subsequent movies that followed. It's not known who was wearing the attire for the photo, but we can all at least pretend that it's the blue shirt-wearing Mr. Spock, played by Zachary Quinto.
Reaction to Justin Lin's unveiling on Twitter has been rather positive, and fans quickly started to ask where they could get their own replica version of the top. Some also took this opportunity to ask Lin to make sure that Star Trek Beyond is good, which I'm pretty sure he is making his top priority.
Lin's post makes us hope that his account is going to be a must-visit Twitter page for Star Trek fans throughout the film's production. The Better Luck Tomorrow and Fast And Furious 6 director is an avid Tweeter, and we can hope that he will bombard his users with constant updates throughout filming. Then again, let's not forget that J.J. Abrams is still aboard the project as a producer, and one could see him making an effort to shut that behavior down.
Justin Lin came onboard to direct Star Trek Beyond after Roberto Orci, who co-wrote 2009's Star Trek and 2013's Star Trek Into Darkness, dropped out of the project. Orci had been on track to make his directorial debut with the sequel, replacing Abrams at the helm of the series, but that was not to be. And while the would-be director had also co-written a draft of the script with Patrick McKay and J.D. Payne, that was eventually changed almost entirely as well. Following Orci's departure, Simon Pegg and Doug Jung were hired to do some major work on the script, which was actually only completed in the last few weeks.
Star Trek Beyond will finally be with us on July 8, 2016, which will be just in time to celebrate the 50th anniversary of the franchise. Hopefully the sequel take the franchise in a fresh and exciting direction.
Your Daily Blend of Entertainment News