Star Trek Beyond In Reshoots, Finds Room For An Oscar Nominee In Its Cast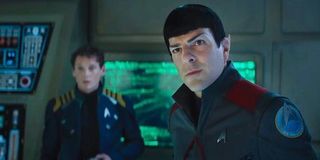 The release of Star Trek Beyond, the third installment in the rebooted science fiction franchise, may only be a few months away, but that doesn't mean that the Justin Lin-helmed space adventure is done. In fact, the production has gone back for reshoots and, in the process, has added an Academy Award nominee in what sounds like a potentially very interesting role. Iranian actress Shohreh Aghdashloo has reportedly signed up to be part of the five-year mission and could have a big impact.
Sure, it's late in the game, but reshoots are a standard practice for a big Hollywood production. It's not uncommon for a film to get into the editing and post-production swing and realize there's something missing, or they could use something else to enhance what they already have. In some cases it's major, in others it's minor tweaks and changes. Right now there's no word on how significant Shohreh Aghdashloo's role will be, but as Deadline calls her character in Star Trek Beyond a "powerful politician," and is the High Command of the Federation, she could very well wield substantial influence.
Nominated for an Academy Award for Best Supporting Actress in House of Sand and Fog, Shohreh Aghdashloo playing the leader of the Federation of Planets ,the governing body of the Trek world, is a curious proposition. Much of the two previous movies, 2009's Star Trek and 2013's Star Trek Into Darkness, takes place on Earth. Fans of the franchise have been clamoring to get to more deep space action, and that's what we heard we were going to get.
From what we know of the plot of Star Trek Beyond, it picks up with the crew of the Enterprise in the middle of the iconic five-year mission—you know, "to boldly go where no man has gone before." That was music to many ears, but if the Head of the Federation is in play, that likely means there will be some Earth time after all, or at least more than we thought.
It doesn't mean there will be a lot of time on Earth, unless there are substantial reshoots. Perhaps there will be an opening scene on Earth and Star Trek Beyond jumps forward to the Enterprise further down the road. Or there could simply be a scene where Captain Kirk (Chris Pine) communicates with her or something along those lines. We'll have to wait and see.
Shohreh Aghdashloo is no stranger to science fiction. She showed up in X-Men: The Last Stand and the Mass Effect video games, and lately she's been hanging out on Syfy's new series, The Expanse, where she also plays a powerful politician. If you're into sci-fi, you should definitely give that last one a watch if you haven't already.
With Justin Lin taking over the directing duties from J.J. Abrams, Star Trek Beyond brings back Captain Kirk (Chris Pine), Spock (Zachary Quinto), Uhura (Zoe Saldana), and all of the core characters, as well as adding Idris Elba and Sofia Boutella to the call sheet. Star Trek Beyond hits theaters July 22.
Your Daily Blend of Entertainment News