Star Wars 7's R2-D2 Will Have Some Key Changes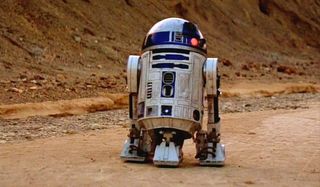 By now you've probably watched that new Star Wars: The Force Awakens trailer at least a handful of times, and we're sure you've noticed one of our favorite returning characters, a little guy we like to call R2-D2. While he more or less resembles the droid you all know and love, in the last 30 years he's received a few upgrades.
At the Star Wars Celebration presentation earlier today, the latest version of the sassy little astromech droid was welcomed onto the stage by director J.J. Abrams and Lucasfilm president Kathleen Kennedy. While this is very much the droid you are looking for, if you look closely in the video from the panel, as well as in the upcoming movie, there are going to be some differences in his dome. This makes sense, we all know how rapidly technology evolves in our own world, and in the Star Wars universe they have all kinds of crazy tech we've never even dreamed, so of course he's had some improvements and renovations over the years, though we'll have to wait and see if any new additions come in handy in sticky situations.
Don't worry, however, these appear to be primarily aesthetic and cosmetic alterations, and this will still be the same loveable, spunky R2. If you needed any further proof, all you had to do was watch when the franchise's latest droid, BB-8, rolled onto the stage. The two looked like Manny Pacquaio and Floyd Mayweather at weigh-ins, and you definitely get the feeling that these two are going butt heads a few times during The Force Awakens. In fact, you get the impression that these two may be too much alike, too similar, to ever truly get along.
You have to love, however, that even with the unusual design, BB-8 is a practical effect. Just about every other movie would have made him digital, but this is a huge indication of how dedicated J.J. Abrams was to using real world special effects whenever possible.
The latest R2-D2 is the product of Brits Lee Towersey and Oliver Steeples, and they have their own awesome story. They're just two fans who built incredible Star Wars replicas, and when Kathleen Kennedy saw their work at the Star Wars Celebration in Germany a few years, she loved their work and they were brought on board to work on The Force Awakens. It's like a fan dream come true.
While BB-8 is going to be the most notable droid addition to the Star Wars canon in The Force Awakens, there are even more to check out. During the presentation, they also revealed a handful of new R2 units. These aren't going to be full figures, in fact, all we're ever going to see are the tops of their heads as they sit in the back of the new X-Wing Fighters, so all they actually made are the domes. Still, the fact so much attention to detail—they all have individual names and personalities—went into an element of the film that we'll primarily see flashing by in fraction-of-a-second increments, further illustrates the lengths the whole production went to for this film.
Watching all of these reveals and listening to the cast and crew talk, it's damn near impossible not to get excited for Star Wars: The Force Awakens. Luckily we have a lot to occupy ourselves with for the time being, because we're still more than seven months away from the December 18 release date.
Your Daily Blend of Entertainment News