Star Wars: The Force Awakens Is Posting Insane Numbers, May Be The Biggest Movie Ever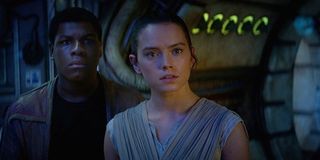 If you've been awake over the last few days, you know that Star Wars: The Force Awakens just opened; it's kind of a big deal. Even before it debuted it smashed records on Fandango, and projections were through the roof, but somehow the actual numbers are even more insane and over the top than anyone foresaw. At the current pace, The Force Awakens is on track to bring in more than $250 million over the course of this weekend. Could it be on track to be the biggest movie ever?
Last night, Thursday, according to Deadline, The Force Awakens obliterated preview night records by banking $57 million. Added to the Friday totals, this puts the J.J. Abrams-directed space opera in the $130-$145 million range. For the whole weekend, industry estimates put the total cash intake at somewhere between $250 and $275 million. Yeah, as it turns out, all of that advance hype wasn't just idle talk, people are getting their asses out to the theater in droves.
To put this in perspective, the previous biggest opening weekend ever took place earlier this year. Jurassic World, another new chapter in a beloved franchise that has been dormant for some time, stomped through theaters to the tune of $208.8 million this past summer. That's pretty damn impressive, but if The Force Awakens continues to soar like it is, that mark will be left in the dust.
As Jurassic World wound up earning more than $1.6 billion worldwide, good for the number three spot on the all-time list, this certainly bodes well for the prospects in that far, far away galaxy. Leading up to the release, Disney took great pains to downplay the earning potential, but with numbers like these, there are a lot of folks at Lucasfilm and the Mouse House doing happy little dances. Or just swimming in money Scrooge McDuck style.
Presales were huge for The Force Awakens, but most of those tickets were reportedly sold for Thursday, Friday, and Christmas Day, so the rest of the weekend is essentially open territory. Some predict that Saturday and Sunday will see big numbers in walk-up business and chains like AMC are going out of their way to make it known that there are still lots of tickets available.
A big opening is one thing, but perhaps even better for the longevity of The Force Awakens are the reviews and word of mouth. People are praising the film up and down on social media (good luck avoiding spoilers, they're flying fast and furious out there), and the critical consensus is overwhelmingly positive. Right now, with 260+ reviews, it has an astounding 95% Fresh rating on Rotten Tomatoes, with a 93% audience score.
With this kind of response, the film may very well have legs. We'll have to wait and see if it can achieve the herculean task of unseating Avatar as the highest grossing movie ever, but even if it doesn't, Star Wars: The Force Awakens is going to do just fine. Hell, it already has. And if we're being honest, even if it sucked, most of us were going to go see it multiple times anyway.
Your Daily Blend of Entertainment News
Your Daily Blend of Entertainment News
Thank you for signing up to CinemaBlend. You will receive a verification email shortly.
There was a problem. Please refresh the page and try again.