Star Wars' John Boyega Wants To Be Marvel Studio's Black Panther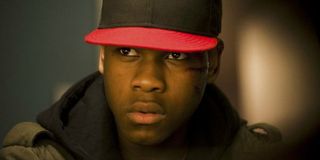 John Boyega is destined to become an icon of pop culture when Star Wars: Episode VII hits theaters in 2015. But the Nigerian-Brit who drew international notice with his lead role in the 2011 sci-fi adventure Attack the Block is looking to another universe for his next role - more specifically, the Marvel Cinematic Universe.
San Diego Comic Con kicks off today, so maybe that's what inspired a string of Tweets all about how John Boyega would like to be fit into the Marvel Studios film franchise. The first of the social media posts simply expressed the 22-year-old's desire to land a role in a Marvel movie:
Then the second dropped a major hint about who Boyega would like to play:
Finally, the third one suggests an arc he'd like to see the Marvel movies take on.
Those familiar with Marvel's comics and not just their movies will know that Boyega is dropping none-too-subtle clues that he'd like to play none other than the King of the fictional African nation Wakanda, Black Panther.
With Marvel embracing diversity across their properties, a Black Panther movie isn't totally out of the question. But there's no indication that Boyega has been in talks with Marvel Entertainment, just that he'd like to be. And who could blame him? Beyond the massive opportunity such a gig would be to an up-and-coming actor, John Boyega is a self-revealed comic nerd whose been weighing in on some of Marvel's big announcements, like Sam Wilson's taking over for Captain America.
And in response to the backlash by some fans, Boyega offered:
Before poking fun:
Do you think this is a good idea? Would you like to see John Boyega take on the role of Black Panther? Answer our poll below, and tell us what you think in the comments section!
This poll is no longer available.
Staff writer at CinemaBlend.
Your Daily Blend of Entertainment News
Thank you for signing up to CinemaBlend. You will receive a verification email shortly.
There was a problem. Please refresh the page and try again.