Star Wars Standalone Film Just Had A Major Setback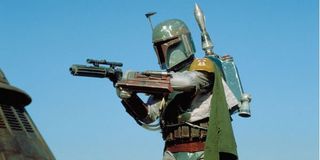 The Star Wars franchise has been flooding us with great news as of late. Star Wars: The Force Awakens showed us a glimpse into what lies in the galaxy not too far away with the epic Episode 7 trailer, and now seemingly every week we are given more and more fun details to fuel our excitement. And The Force Awakens isn't the only film fueling that fire. There has also been discussion about a set of Star Wars spin-off films. But, unfortunately, some bad news ahead— the first standalone film just had a major setback and lost their primary writer for the film.
Gary Whitta, best known for his work on The Book of Eli and After Earth has recently confirmed that he has left the project, though his contributing writing is sure to still affect the project greatly. Whitta confirmed his departure in a tweet, and announced that he was on to his next project adapting Mark Miller's comic, Starlight.
Whitta had been working along with Godzilla filmmaker, Gareth Edwards on the project, and just had finished the first draft when he decided to move forward on the Starlight. While his screenplay is surely going to inspire the movie, the project will likely need to hire a new writer. The Hollywood Reporter first broke news of the situation, and Edwards said in a statement:
Edwards and Whitta have been working on this Star Wars project since May 2014. While the plot has not been confirmed, according to SlashFilm the film will center around an intergalactic heist, specifically in search of the plans for the first Death Star. Rumors on the standalone film have included the Millenium Falcon's involvement as well as the main character being introduced in The Force Awakens. While we are still in the stage of rumored information, we now at least know that the first stab at the screenplay has been completed by Whitta, and he put major effort into it, so hopefully it will be great. Whitta continued:
Why Whitta is moving away from the project so quickly, we are unsure. But this isn't the first time a writer stepped of a Star Wars project. After a year of working on treatment and a script for the upcoming J.J. Abrams film, Michael Arndt left the project, and Abrams and Lawrence Kasdan took over the script-writing. Maybe Whitta has just done all he thinks he can do at this point, and needs to move on. LucasFilm and Disney have not commented on hiring a new writer, but we'll see who Gareth Edwards ends up working with for the final stages. The standalone film has a scheduled release date of December 16, 2016.
Your Daily Blend of Entertainment News