Step Up 5 To Bring Back The Stars Of The Franchise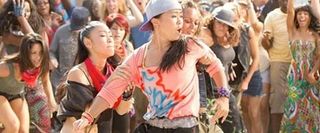 While the embarrassing failure of Rock of Ages and the undeniable success of Les Miserables has bloggers and critics pondering the future of movie musicals, there's one musical franchise that is two-stepping its way to the bank over and over. No matter that critics have panned every entry in the Step Up film series, these dance-centered dramas sing at the box office. So following hot on the heels of Step Up Revolution, which pulled in more than $140 million worldwide, Summit Entertainment is prepping for Step Up 5.
Deadline reports up-and-coming screenwriter John Swetnam has been hired to pen the fifth entry in the franchise, which will reportedly (and predictably) end with a big dance-off wherein stars of the previous films can make cameos. This will likely mean that beloved dancers like Stephen 'tWitch' Boss, Adam G. 'Moose' Sevani, and Mari Koda will appear, though they may not star. Less likely though is a cameo from Step Up first stars, Channing Tatum and wife Jenna Dewan-Tatum, as he has moved on to much bigger projects and she is now pregnant with their first child.
I actually enjoy the Step Up movies in general, but was wildly disappointed in the incoherent plot and inept coverage of the dancing in Step Up Revolution (you can read my two star review here). Which is why I'm disheartened that Summit is bringing director Scott Speer back for Step Up 5. I won't rehash all the issues I had with Speer's direction in the film here, but I will say I hope he remembers to keep the focus on the dancing and the romance this time around. In this franchise, really, everything else is just set dressing.
Step Up 5 will be in 3D.
Staff writer at CinemaBlend.
Your Daily Blend of Entertainment News
Thank you for signing up to CinemaBlend. You will receive a verification email shortly.
There was a problem. Please refresh the page and try again.