Stephen Fry Is Sherlock Holmes' Smarter Brother Mycroft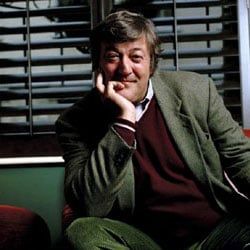 In one of the most perfect casting decisions of the week, Warner Bros. has hired Stephen Fry to play Mycroft Holmes, Sherlock's older brother, in Sherlock Holmes 2. The announcement was made by Fry himself on BBC Radio and picked up by THN.
In the original Arthur Conan Doyle books, Mycroft is not only older but even smarter than his brother Sherlock. But unlike Holmes he's not interested in getting his hands dirty or getting physical, rendering him useless when it comes to detective work. He has no real ambition or motivation, he lacks street smarts or the means to apply his genius to anything practical. His brilliance has rendered him all but inert. Yet when Sherlock runs into a problem he just can't solve himself, he takes it to Mycroft and more often than not gets the right solution.
If you're familiar with Stephen Fry's work, then you know he's a perfect fit for such a brilliant but ultimately lazy character. More recently Fry's been doing voice work. He was the Cheshire Cat in Alice in Wonderland and, it's important to note, he was also the voice of The Guide in Hitchhiker's Guide to the Galaxy. But he's also had great roles in excellent movies like V for Vendetta, Gosford Park, and A Fish Called Wanda. Now he'll take on his most iconic character in Mycroft.
Sherlock Holmes 2 starts shooting in the UK soon for a December 16, 2011 release date. Robert Downey Jr. will be back as Sherlock Holmes and Jude Law returns as Watson. Guy Ritchie will once again direct.
Your Daily Blend of Entertainment News