Stephen Sondheim Backpedals On Reported Changes To Disney's Into The Woods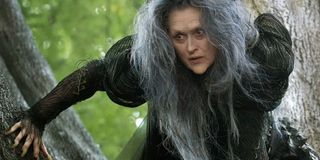 Just last week, we reported the crushing news that Disney would be toning down some of the darker elements of Stephen Sondheim's Into The Woods for their Christmas-timed tent pole. But now that source is backpedalling hard, insisting Disney's changes to the beloved but mature fairy tale musical aren't all that severe. And once again, this Disney insider is Stephen Sondheim himself. Though he's not calling it backpedalling. He's blaming The New Yorker for "misreporting."
Okay.
To give the statement he issued through his lawyer some context, Stephen Sondheim had previously said that Disney was concerned about some of the more adult themes of the show he wrote with James Lapine, who Disney brought on board to write the Into The Woods screenplay. Among other things, Sondheim said to an audience at an Academy of Teachers Q&A that Disney was potentially cutting the song, "Any Moment," in which the Baker's Wife and Cinderella's prince hook up, cheating on their respective partners. Now, Playbill reports Sondheim says:
You can hear "Any Moment" below. Emily Blunt and Chris Pine will perform this saucy number in Into The Woods:
It's worth noting that cutting the cheating plot point was just one of Sondheim's reveals that has fans of the original show riled. Spoilers ahead.
Another major change is that the original show has Rapunzel die by rampaging Giantess, but she'll live in Rob Marshall's version. (Disney can't very well murder off one of their chipper princesses now, can they?) The other shift that is sad and yet predictable is the shifted nature of the relationship between The Wolf and Little Red Riding Hood. When casting reports had Disney eying grade-schooler and TV personality Sophie Grace Brownlee, we suspected the implication of lust and sex would be cut from their plot line, and Sondheim confirmed it. Again, as they did cast a child (ultimately Broadway starlet Lilla Crawford) to play Little Red, it makes sense to kill the sex angle. It erases any chance of parental outrage, and makes Into the Woods more accessible to Disney's key demographics: KIDS.
Of course, Into the Woods the Broadway show wasn't meant for kids. But maybe this easier-to-digest version will introduce a new generation to Sondheim and his works. So maybe these bits of censorship aren't all bad?
Into The Woods will open December 25th, 2014.
Your Daily Blend of Entertainment News
Staff writer at CinemaBlend.