Recurring Ellen Guest Sophia Grace Brownlee Follows Johnny Depp Into The Woods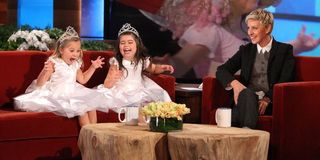 Rob Marshall has been gathering together an insanely impressive ensemble of Broadway stars and Hollywood heavy-hitters for his upcoming movie musical Into the Woods, but he threw us a curve ball with his latest casting announcement. EW reports Sophia Grace Brownlee—of Sophia Grace and Rosie fame—is signing on to fill the role of Red Riding Hood.
This is surprising on two counts. First off, Brownlee isn't exactly a child actress, though the ten-year-old is no stranger to singing professionally. Not long ago, Brownlee was a little belter out of Essex England who enjoyed singing at home. But when Ellen DeGeneres caught wind of her and her cousin Rosie McClelland's cover of Nicki Minaj's "Super Bass"—complete with tiaras and tutus—the girls became a recurring facet of Ellen. Check out this kid's swagger and pipes in her music video for "Girls Just Gotta Have Fun."
The second element that makes this casting choice a bit bizarre is that the role of Red Riding Hood is scandalous in the Broadway play on which the film is based. Brownlee is known for her enthusiasm and gleeful girliness, but this Red Riding Hood is essentially seduced by the Big Bad Wolf (who will be played here by a 50-year-old Johnny Depp) then becomes a bit blood-lusty by story's end. We're going to assume these aspects will be toned down a bit considering this is a Walt Disney Pictures production, and they've cast a child instead of a twenty-something. But Red Riding Hood's big song number presents a curious obstacle to the filmmakers as it contains some racy implications. Check out "I Know Things Now" below:
Of course, maybe the sexual references above won't play so scandalously with a rosey-cheeked kid singing them. After all, Brownlee made the raunchy "Super Bass" downright adorable. Regardless, this is a no-brainer for Brownlee. She joins a cast that includes Depp, Anna Kendrick, Chris Pine, James Corden, Tracey Ullman, Emily Blunt, Lucy Punch, Christine Baranski, Mackenzie Mauzy, Tammy Blanchard, Billy Magnussen, and the one and only Meryl Streep. Based on the beloved musical by Stephen Sondheim and James Lapine, Into the Woods re-imagines the fairy tales we grew up with as a dark and twisted tale full of witty songs. Between the prestigious source material, Marshall's reputation for translating Broadway to the big screen (six-time Academy Award winner Chicago), and this incredible cast, this film is looking to be one of the most anticipated of 2014, if not gunning to be one of the best.
Into the Woods will open on Christmas Day 2014.
Staff writer at CinemaBlend.
Your Daily Blend of Entertainment News
Thank you for signing up to CinemaBlend. You will receive a verification email shortly.
There was a problem. Please refresh the page and try again.