Steven Spielberg Commits To Moses Biopic Gods And Kings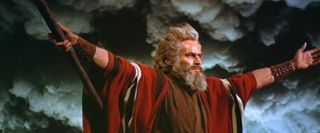 You may remember us reporting back in September that Warner Bros. was eyeing Steven Spielberg to direct a biopic about the greatest Jewish hero of all, Moses. After all, Spielberg had explored Jewish heroes in films like Schindler's List and Munich, so who better to tackle not just one of the Bible's most important figures, but one already played onscreen by Charlton Heston.
It seems like the Moses biopic, called Gods and Kings, wouldn't really be able to happen with anybody but Spielberg behind it, so I suppose it's a good thing that he finally committed. Deadline reports that Spielberg has committed to the Warner Bros. project, which aims to distance itself completely from the Heston-led The Ten Commandments, instead depicting Moses's life as a gritty war movie in the style of Saving Private Ryan. Here's how Deadline's insider source described it:
Given that Spielberg has just completed one of the glossiest war epics in recent memory, War Horse, it's a little tough to imagine him going back to Saving Private Ryan's verite style. But he'll have time to plan it first-- they're aiming to start production in March or April of 2013, giving Spielberg plenty of time to wrap up Lincoln and the upcoming Robocpocalypse and make his plans for Gods and Kings. He's been on top of the world this year given War Horse and Tintin, and it's interesting to see him sign on for something that looks like another huge challenge. Say what you will about Spielberg, but he doesn't seem interested in giving himself a break.
Your Daily Blend of Entertainment News
Staff Writer at CinemaBlend
Your Daily Blend of Entertainment News
Thank you for signing up to CinemaBlend. You will receive a verification email shortly.
There was a problem. Please refresh the page and try again.