Steven Spielberg Developing PTSD Drama Thank You For Your Service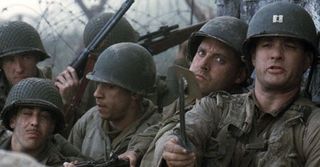 In 2009, war reporter David Finkel won praise—including numerous Book of the Year honors—for his non-fiction memoir The Good Soldier, which he wrote about his experiences being embedded with a battalion of American soldiers who were part of the 2007 surge to conquer Baghdad. This fall will see the release of his follow-up, Thank You For Your Service, and already DreamWorks has snatched up the book's movie rights to develop what's sure to be a devastating drama.
In Thank You For Your Service Finkel focuses on the soldiers who return from the horrors of modern warfare with deep mental wounds in the form of Post Traumatic Stress Disorder. PTSD makes it difficult for many vets to reintegrate into everyday civilian life. Deadline reports DreamWorks is looking for an established screenwriter to tackle the tricky topic and adapt Finkel's book. Steven Spielberg is already attached to the adaptation, though at present it's unclear if he'll be producing or directing. Nonetheless, with the three-time Oscar-winner's name connected to the project, you can bet DreamWorks will have their pick of leading men when the time comes.
Notably, this isn't the only PTSD drama that's grabbing headlines. A couple of weeks back, news arose that Tom Hardy would produce and star in the PTSD-centered feature Samarkand, based on the short film Sergeant Slaughter, My Big Brother.
With more and more soldiers returning from conflicts in Iraq and Afghanistan, the topic of PTSD will likely (and sadly) have a greater and greater relevance. So, it's good to hear such esteemed members of the filmmaking community will be exploring the issue, and exposing it to the masses. At this time, there is no word on when either of these films will roll into production. In the meantime, Spielberg will be jury president of this year's Cannes Film Festival, and Hardy will be filming the Steven Knight thriller Locke.
Staff writer at CinemaBlend.
Your Daily Blend of Entertainment News
Thank you for signing up to CinemaBlend. You will receive a verification email shortly.
There was a problem. Please refresh the page and try again.