Steven Spielberg Gives A Job To Fan Who Made His Own Tintin Credits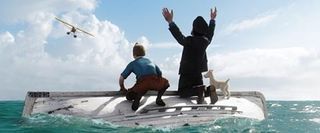 Once upon a time, in a land not so far away, a man created something so cool that the great king saw it and gave the man the job of a lifetime. Such is the fairy tale of James Curran, a name many graphic designers will be envious of for many years to come.
Curran, like thousands of other artists, made something because he wanted to, not because he was getting paid, and now he's going to be well paid, probably for the rest of his life. As we all know, The Adventures of Tintin will be hitting theaters this this Christmas, and Curran, being a huge fan of the original Herge comics, created a set of opening credits using his motion design skills, just because he felt like it. Generally, artists create, release, and after the initial glut of cheers and/or jeers interest in the piece fizzles. Fortunately for Curran, his really excellent piece found its way to the big man Steven Spielberg, Tintin's director, who was so impressed by them that he invited Curran to the UK premiere of Tintin and went ahead and gave him a job on his next film.
The news came from writer Edgar Wright who tweeted the news yesterday, and in true Twitter fashion the post had next to no details. However, Spielberg currently has Robopocalypse listed as his next film after Lincoln, so someone with a strong motion graphic background may fit well on that crew.
Take this tale with you, dear reader. This should be an inspiration to all of us to just keep doing what we love and do it passionately, regardless of who we think is going to see it. Create for yourself and you may get to create for others as well. Scope out the really nice piece by Curran below, and be inspired to take your work to the next level.
Your Daily Blend of Entertainment News