Stop Asking Kate Winslet To Autograph Her Naked Titanic Pic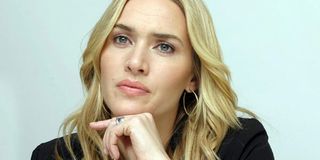 It's likely that when a rosy-cheeked Kate Winslet booked Titanic back in the late 1990s, she suspected it would be a major moment in her career. After all, she was to be the lead in a big-budget historical drama written and directed by James Cameron, the helmer of such hits as Terminator, Aliens, and True Lies. However, it's unlikely she suspected one scene in particular to haunt her for years and years to come.
In and interview with Yahoo UK, Winslet was asked to confront a less than glamorous element of Titanic's legacy: her nude scene's continued popularity. This was prompted by a fan at the UK premiere of Divergent, who eagerly presented her with a recreation of Jack's drawing of Rose. Apparently this is far from the first time this has happened. She explained:
She laughed off the whole situation, but let it be known: You are not the first person to think of presenting Winslet with Rose's nude scene. She's not amused. It's not cute.
It's kind of astonishing that some fans might think this is flattering. Think about it. At best you hand her the screenshot, which implies you want her to sign it so you can hang it as a point of pride in your home. "Welcome to my place. You'll see over there we got the chairs reupholstered. To your left, we've got a family portrait with all the kids. Oh, and here's a topless shot of Kate Winslet. Look! She signed it!"
At worst, you hand Winslet a carefully recreated version of Jack's drawing, thereby communicating to her you have spent at least an hour starring at a paused moment of the movie, focusing carefully on the every curve and shadow of her bare breasts. Moments with celebs we admire can be so fleeting. Let's not waste them on this anymore.
If you ever get the chance to present Winslet with a picture to sign, you'd be better off picking a Titanic pic that doesn't feature her tits. Or hey, how about one of the four other performances for which she was nominated for an Academy Award, like Sense and Sensibility, Iris, Eternal Sunshine of the Spotless Mind or Little Children? Or you could go with a picture from her Oscar-winning role in The Reader. Hell, get cheeky and pull out a shot of her from her self-mocking turn in Extras. Just keep your scantily clad screengrabs to yourself.
The clip below is decidedly and fantastically NSFW:
Your Daily Blend of Entertainment News
Staff writer at CinemaBlend.