Studio Exec Jack Heller Will Enter Nowhere Behind The Lens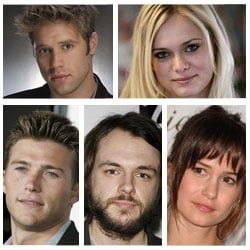 We see actors make the jump from behind the lens to in front of it and even long-time writers looking to give working the camera a shot, but a studio executive? Caliber Media's Jack Heller is ditching the office for the set and preparing to make his directorial debut with the thriller Enter Nowhere set to begin production in Southampton this week.
Not only will Heller be working with a fairly impressive up-and-coming cast, but an intriguing plot as well. The roster includes Katherine Waterston, Scott Eastwood, Sara Paxton, Shaun Sipos and Christopher Denham all of whom will be thrown into a deserted, supernatural forest. THR describes Shawn Christensen and Jason Dolan's script as "having shades of Lost." The characters are all strangers and will be forced to take shelter and work together to escape the forest.
There's something about having the players banding together to fight for a common cause that's particularly appealing. It reminds me of the excitement of a horror movie where a group of unsuspecting victims are picked off one-by-one. Of course, that likely will not be the case here, but the necessary camaraderie in a helpless situation is instantly engaging.
As for Heller, it's really impossible to judge his capabilities behind the lens. According to IMDB, the guy has only worked on three films, Homecoming, Damage and The Stranger. However, his official bio on Caliber Media's website, reveals a much more extensive film background having worked for Outlaw Productions, establishing a first look deal with Lorenzo Di Bonaventura and amassing an impressive list of clientele working as a talent agent. Up until now, Heller seems to have known what he's doing. I'd like to imagine that will continue.
Your Daily Blend of Entertainment News
Staff Writer for CinemaBlend.