Studios Digitally Scanning Actors Is Tech 2.0 Greatness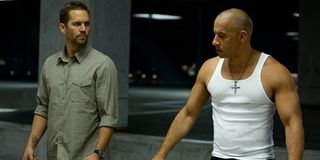 Over the past couple of decades, we've seen digital effects blur the limits between physical performances with digital appearances. As early as Jurassic Park's initial steps into replacing a stunt performer's face with that of a starring actor, and as recently as this year's Furious 7, we've seen technology moving mountains and making actors look as if they're doing the impossible. Now that studios are getting involved in digital scanning processes that capture the complete likenesses of their actors, it's become easier to surmount the most difficult obstacle any film could be forced to deal with: the untimely death of an actor.
The Hollywood Reporter gained some interesting insight to the still highly secretive process of recreating Paul Walker's likeness in the uncompleted portions of Furious 7. With the actor's untimely death in 2013 putting a temporary halt in production at the halfway mark, Universal Studios looked like it was left with no option but to creatively use stunt doubles, archived footage, and Walker's brothers as physical stand ins.
While digital effects were always a possibility, what hasn't been specified is just how impressive the tools to complete Paul Walker's Furious 7 performance actually were. Refusing to comment just what exactly they contributed to the film's completion efforts, Weta Digital was specifically mentioned as recreating Walker's physical likeness to such an extensive point that the lines between not only actor and stunt performer would be blurred, but also between archival footage and newly shot footage. Basically, you can have any actor perform a role physically, and with the usage of archival footage, you can recreate the performance/physical attributes of another performer and animate them over the substitute. If Furious 7 looks as good in theaters as it does in the trailers, then there's some groundbreaking stuff headed our way.
With Furious 7 leading the way, future films that require the likeness of an actor mapped onto that of another actor/performer will be easily aided. Think of a future where action scenes no longer have to cut to a long or obscure shot of the action, while still keeping you in the moment. Better still, the film adaptation of Ready Player One will most definitely benefit from this technology, as it has sequences that require the manipulation of archival footage and celebrity likenesses within its story. Even in their advancing age, actors will be able to put in performances without having to lift a finger, and they'll be on the screen for generations to come.
Of course, while the subject of digitally scanning an actor sounds fun, it's can also sound just a little bit scary. It wasn't too long ago that The Congress showed us a world where reality no longer matters in the artistic process, and that the forever youthful appearance of any actor could come at the cost of their creative autonomy. Anyone who's seen an ad for Coors Light or Hoover Vacuums in the 1990's knows the pitfalls of one's likeness being used to sell products that the talent on display might not have agreed to. However, with careful curation from any actor's estate, the power of this medium could be used for the better, which is exactly what happened when Sir Lawrence Olivier made a posthumous appearance in 2004's Sky Captain And The World Of Tomorrow.
For now, digital scanning and the usage of an actor's likeness is an extremely useful tool that's still in its somewhat early stages. There are plenty of glitches, pitfalls, and debates still to come; but in a very hypothetical sense, this technique is rather exciting to behold. While Paul Walker left this world too soon, it's at least comforting to know that the digital effects wizards at Weta Digital have given us all one last performance to enjoy.
Furious 7 hits theaters on April 3rd.
Senior Movies Contributor
CinemaBlend's James Bond (expert). Also versed in Large Scale Aggressors, time travel, and Guillermo del Toro. He fights for The User.
Your Daily Blend of Entertainment News
Thank you for signing up to CinemaBlend. You will receive a verification email shortly.
There was a problem. Please refresh the page and try again.