New Sucker Punch Animated Short Breathes The Fire Of Faith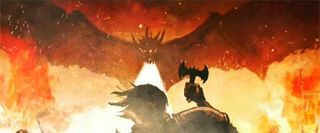 With the release of Zack Snyder's new visual feast drawing ever closer, the team behind Sucker Punch has begun releasing a series of brilliantly animated shorts, set in the fantasy world of Sucker Punch. If you saw the first one, which told the story of a stormtrooper from capture, to indoctrination, to death, you probably know what you're for with this second entry. You're wrong.
The animation style is the same but the story is different. This one ignores the more focused, individual story used in the stormtrooper short in an attempt to say something big and broad about the power of religion and faith. In the process, it turns into something pretty preachy, but in its own way also beautiful and thoughtful. This is definitely not the sort of thing you expect from anything associated with Zach Snyder.
Watch the new Sucker Punch themed animated short film, entitled "Dragon" right here:
That awesome voice you just heard narrating "Dragon" belongs to the great character actor Keith David. He's not actually in Sucker Punch, but he's the kind of actor that shows up almost everywhere else. Most recently he played the head of the awesomely named "Carnival of Crime" in the failed NBC superhero series The Cape. He does a lot of voice over work, but clearly he needs even more. What a voice. Besides, Morgan Freeman can't be the voice of everything.
Your Daily Blend of Entertainment News
Thank you for signing up to CinemaBlend. You will receive a verification email shortly.
There was a problem. Please refresh the page and try again.