Summer Movie Box Office Predictions: Blockbusters To Bombs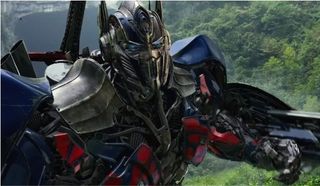 Each year, the summer movie season is ruthless, filled with movies claiming and switching release dates, then studios cannibalizing each other to score a hit. Most of the time, however, there's the gentleman's agreement between all of them to keep the peace and usually release one blockbuster at a time. Part of this strategy comes from some execs watching their fellow producer bomb when they overestimate the broad appeal of their film. In summer, movies die loudly, and they leave scars.
Which is why we've decided to break down most of the summer's offerings, observing exactly what it is about some films that cause them to succeed and fail. This involved number crunching, market analysis, educated guesses, and the application of a few snobby biases. We've separated these groups into obvious hits, less-obvious hits, so-so performers and outright bombs, all comparative to budgets. All gross numbers are global totals unless otherwise specified. Feel free to bookmark this, and check it at the end of the summer.
Megahits
Godzilla – Few summer films have had marketing as impressive as this monster mash, which is seeing release after two more frivolous summer entertainments (Amazing Spider-Man 2, Neighbors). Ads have obscured the monster, but favored the disaster footage, a money-shot heavy approach that likens this picture to, ironically, a film like the ones made by 1998 Godzilla director Roland Emmerich, albeit more serious. That film, by the way, grossed $379 million globally despite being hated by just about everyone. With an inflated overseas market, this thing could be looking at upwards of $200 million domestically, and $600 million global.
X-Men: Days Of Future Past – Strangely enough, the X-films haven't broke out like other superhero franchises: the highest grossing effort is the $459 million registered by X-Men: The Last Stand. Because it's eight full years later, because the overseas market has changed, because this is in 3D, and because this is following the Fast And Furious model of filling the cast with characters from all previous films, there's reason to believe this film will obliterate that number. Last year's The Wolverine was extremely well-received internationally, grossing $414 million worldwide, but it was a smaller, lower-budgeted affair. This new film promises armies of mutants, killer robots and time travel, basically the exact opposite elements that made The Wolverine the lowest grossing X-film domestically. X-pect (EL OH EL) grosses close to $275 million domestically, and $600 million worldwide.
How To Train Your Dragon 2 - The animated sequel bump doesn't always occur for some films: Kung Fu Panda 2 and Happy Feet Two are two recent examples of animated sequels that lacked the domestic success of the originals. But consider the case of Shrek 2 and Despicable Me 2, and realize that Dreamworks' Dragons franchise has had a presence on television with the Riders Of Berk series, and you're looking at the first animated kid flick of the summer obliterating the original's $494 million take, with possibly a $700 million worldwide tally.
Transformers: Age Of Extinction - Transformers: Dark Of The Moon was weaker domestically than its predecessor, though the strong global numbers took the film over the billion dollar mark. The signs would suggest a slightly shrinking appeal, but no studio dared to challenge this franchise's dominance over the 4th of July weekend. Not only is it opening a full week before Independence Day, but there's very little to challenge the picture on that date, giving Age Of Extinction two full weekends to most likely cross $200 million domestic, on its way to a $300 million franchise-standard domestic gross and at least $800 million worldwide.
Dawn of The Planet Of The Apes – The earlier film was an August surprise, coming out of nowhere to gross $481 million. This one comes two weeks after Transformers dominates the marketplace, and does so with the added strength of 3D, and an arguable upgrade at director in Matt Reeves. This franchise remains beloved by fans – even 2001's hated reboot earned $362 million worldwide – and as they move closer to territory established by the original films, expect new fans and baby boomers to be intrigued, to the tune of $525 million global.
Modest Hits
Neighbors – This fratty comedy spins on the premise of a generational struggle between an older, responsible guy and a young antagonist. But by casting Seth Rogen and Zac Efron, they basically went with two beloved actors of a similar demographic, limiting the crossover appeal to teens and young adults. That will probably keep this film from breaking out, but it wouldn't be a surprise to see Neighbors do basically the same, or slightly better numbers as last year's This Is The End, which grossed $126 million.
A Million Ways To Die In The West – Without the appeal of a teddy bear and an A-List star, this picture's not going to even sneeze at Ted's preposterous $549 million take. But international audiences have begun to show a kindness towards westerns they never did before, with True Grit and Django Unchained scoring high in overseas regions. The somewhat narrow appeal of Seth MacFarlane as a leading man gives this film a bit of a handicap, and a comedy-western isn't exactly blockbuster material, but it wouldn't be strange to see this film push $200 million globally on the back of MacFarlane's fanbase.
Edge Of Tomorrow – Stateside, the profile for this film is limited, given Tom Cruise's shrinking appeal. Coming a week after the kiddie-courting Maleficent, this should at least have a robust opening. But Cruise's biggest business comes overseas, where each of his last four starring vehicles grossed 70% or more of their totals, none of which had aliens or exoskeleton mechs. This could surpass a solid $120 million over here, and land at $450 million worldwide.
The Fault In Our Stars – Expectations are managed for this film, which only cost $12 million. This is counter-programming against the boy-centric blockbusters, even if the cancer storyline is a surprising downer for the target age group. Shailene Woodley is liked by her audience, but Divergent's $233 million global take was a bit below expectations. Still, if this passes $60 million domestically, it's a big win.
22 Jump Street – The first film was a surprise springtime smash, with $201 million worldwide. Since then, you could argue that stars Channing Tatum and Jonah Hill have plateaued: Hill's Wolf Of Wall Street Oscar nomination helped him, but didn't give him any real box office traction, while Tatum experienced a disappointment with White House Down. Still, the first was well-liked enough that this one might not open big (particularly not against How To Train Your Dragon 2) but it could perform steadily enough to gross at least $180 million globally.
Think Like A Man, Too – If you'll look around the summer schedule, you'll notice a severe lack of entertainment options for black and Hispanic audiences. Here comes this sequel to fill that void, having an added hook of a Vegas setting to distinguish this from the first film. This is coming out in a much more competitive environment than the first one, but it should open big, even if it only comes within a few dollars of the original's $91 million take.
Deliver Us From Evil – It's not entirely clear how Screen Gems is positioning what looks like a September dump into the Fourth Of July weekend, but here it is. And because there's very little to offer audiences that holiday aside from comedy Tammy and the Transformers, expect this film to reap a genre windfall. Maybe not at the level of last year's The Conjuring, as Screen Gems is a mixed bag as far as genre offerings (last year brought Carrie and Mortal Instruments: City of Bones), but a $130 million global gross and $80 million domestic should be solid.
The Purge: Anarchy – The bloom is off the rose with this series, as ticket-buyers turned on the film almost immediately during it's massive opening weekend. But you can live with negative feedback when you gross $89 million on a budget of only $3 million. This film adds the hook of an outdoors expansion of the concept, which should bring fresh eyes, but it doesn't look like the series has breakout potential beyond that. Still, a global tally close to the original with added support overseas is absolutely in play.
Step Up: All In – These films are basically cheap and designed almost solely for the international market, where they are, in some regions, retitled Sexy Dance. Step Up: Revolution was the weakest performer in the series domestically, but it still registered a $140 million global gross. This one should experience a slight uptick, given that it reunites characters from all the earlier films, essentially making it Step Up: Days Of Future Past. A final number close to the $159 million collected by Step Up 3D is certainly possible.
Guardians Of The Galaxy – A Marvel gamble back in 2008 meant something different than a wager by them now, and Guardians is one of the biggest. Looking at the schedule, it's entirely possible this film opens in a vacuum, and Marvel's increased profile suggests it could play strongly throughout the month. Thor was a similar risk, and opening at the beginning of May in 2011 it grossed $449 million, mostly on the strength of foreign audiences. Comparatively, 2008's The Incredible Hulk was the weakest of the Marvel films thus far, with $236 million worldwide. Split the difference, add in 3D, and there's no reason the Guardians can't register a $400 million global gross.
Get On Up – Late-summer dramas always have a good shot to break out, and some serious-minded audiences are already prepared for fall. An example would be The Help, which opened in August and grossed $216 million on its way to Oscar nominations. That film's director Tate Taylor returns for a James Brown biopic that promises lively music, high drama and the chance to honor the life of a legend. Walk The Line and Ray were two recent music biopics released in the fall to $186 million and $124 million worldwide numbers. This one could snuggle in right between those two at around $150 million globally.
Break-Evens
Amazing Spider-Man 2 – Sony head Amy Pascal threw down the gauntlet by suggesting this film should break a billion worldwide for the studio. Given that the last film pulled in $752 million, a far cry from Spider-Man 3's $890 million tally even with added 3D, you can see how she's barking up the wrong tree. Amazing Spider-Man 2 has the year's best release date and a surplus of promotion behind it. But enthusiasm and fan interest in the last picture dwindled considerably, and this is a franchise in trouble. The last film opened late in summer and had legs to support it's weaker opening. This one will open much bigger, but soon has to run the gauntlet against Godzilla and X-Men. At a reported $250 million budget not counting P+A, this is going to need to break the bank, and with international numbers solid but not overwhelming, this film could clock in around $650 million, a new low for the series.
Maleficent – Alice In Wonderland set the studios on the path of live action big budget fairy tale movies, but none have become breakout successes. The latest is this Sleeping Beauty reworking, which some say cost as much as $200 million (which may or may not include expensive reshoots). Reaching the $396 million grossed by Snow White And The Huntsman isn't quite going to cut it. Fortunately, the film's got Angelina Jolie on its side: she hasn't been seen onscreen since the one-two punch of Salt and The Tourist, both of which made over 60% of their grosses internationally. The results may be modest domestically, but expect the film to register a worldwide gross in the neighborhood of $450 million.
Planes: Fire And Rescue – No one paid Planes a second thought last summer, and the $50 million toon ran away with $219 million worldwide. This sequel was pretty much part of the deal, and will be arriving six weeks after the last kid flick, How To Train Your Dragon 2. A satisfactory $200 million worldwide is certainly in play once again.
Hercules – Over the last four years, Dwayne Johnson has starred in four films that crossed at least $300 million worldwide. And in all of those cases, he was honing in on someone else's franchise, riding the coattails of an established brand. This is the first big budget film to rest entirely on Johnson's name and charisma, but unfortunately he's relied on director Brett Ratner to illustrate it. Johnson's best when he gets to have a sense of humor and/or bounce off another major co-star, and here he has neither. Instead, he's in the type of pre-packaged film that audiences can clearly envision in their head before seeing, as if it were a parody inside another film. International audiences will be there to support Johnson, but $250 million worldwide and a very strong DVD life is probably the ceiling.
Lucy – Luc Besson reinvented himself as sort of a brand for b-level action in the wake of the Taken movies, but you could argue it's been a long run of non-successes, with films like Columbiana and Lockout dotting his resume. He returns to the director's chair with this thriller, and while last year's The Family was dreadful, it still registered a respectable $68 million. Here, he's got Scarlett Johansson, a sneaky-good box office bet: Johansson has smartly positioned herself as one of the world's biggest movie stars without logging a single leading role in the last four years with the exception of the arthouse hit Under The Skin. The Marvel films have helped, as well as supporting appearances in He's Just Not That Into You and We Bought A Zoo. Teaming her with Morgan Freeman, another box office lucky charm, should result in a few cheap late-August dollars, and possibly a global gross near $90 million.
The Expendables 3 – The second film in this series boasted the added star-power of Chuck Norris, Liam Hemsworth, and a still-hungry Jean-Claude Van Damme, not to mention a chance to actually see Sylvester Stallone, Bruce Willis and Arnold Schwarzenegger together in action. While the $305 million gross was robust, the domestic numbers were considerably weaker from part one to part two. With Stallone and Schwarzenegger's solo efforts being roundly rejected, and the dwindling box office numbers of Jason Statham threatening to turn him into a supporting star, the only real lure for this film is the added presence of Wesley Snipes. Bigger name additions like Harrison Ford and Mel Gibson, comparatively seem like desperate last-gasp attempts at relevance, and niche cast additions like Antonio Banderas (huh?), Kelsey Grammer (what?) and Glen Powell (who?) won't move the needle for the average action fan. Worldwide numbers around $250 million should please the studio, though expect a domestic take in the neighborhood of $70 million.
Potential Flops
Blended – This romantic adventure has a safari hook, but trailers have struggled to show the actual conflict. Adam Sandler reuniting with The Wedding Singer collaborators Drew Barrymore and director Frank Coraci is probably a good move in the actor's career, as the bottom threatens to fall out after a string of middling performers. Despite the $246 million grossed by Grown Ups 2, Sandler's overall track record is beginning to get a little spotty: unlike other comedians, he can rely on foreign audiences to support his work, but Jack And Jill ($149 million) was a downer, and That's My Boy ($57 million) was a disaster. Targeting families isn't a bad approach, but this comes out against X-Men: Days Of Future Past. An end result of somewhere around $150 million global isn't too bad for a family comedy, but Sandler's films tend to have completely unreasonable budgets: Grown Ups 2 pretty much takes place in backyards and shopping malls and it cost $80 million. If this has a similar production cost, $200 million should be the goal.
Tammy – Melissa McCarthy is coming off a strong run that includes Identity Thief ($173 million) and The Heat ($229 million). This is a road trip comedy, however, and her only real support comes from Susan Sarandon. This seemed like a smaller project from the start, so the Fourth Of July berth is surprising, but McCarthy has had stronger, more proven box office stars to bounce against in her earlier work. This likely wasn't an expensive film, but without the support of an international audience, and opening in the wake of Transformers, this could easily take a knee at $80-$90 million worldwide.
Jupiter Ascending – You hate to predict negative results for an ambitious-looking original film like this, but there are too many wild-cards at play. It's not like the film – which features a half-wolf bounty hunter in the future pursuing a pretty janitor destined for great things – is that strange, but it certainly stands out in a sea of sequels, remakes and adaptations. Still, the Wachowskis have been playing with house money for awhile now: Speed Racer was a tremendously costly failure, and the expensive Cloud Atlas was released by Warner Bros. as if they were embarrassed by it. Their outlandish sci-fi concept rests on the appeal of Channing Tatum and Mila Kunis, both of whom have varied box office histories in recent years, and one is playing an elfin killer, the other a janitor. You wish them the best of luck, but the film is coming a week after Dawn Of The Planet Of The Apes and carrying a massive $150 million budget. A global gross of $200 million would actually be saving face.
Sex Tape – Bad Teacher alumni Cameron Diaz, Jason Segel and director Jake Kasdan reunite for this raunchy comedy that pivots on an elaborate hook involving the misplaced marital aid in the title. Like Bad Teacher, it likely comes in at a reasonable price, and in Diaz it has an abnormally reliable leading lady at the box office. But Segel's last starring vehicle aside from The Muppets was Five Year Engagement, which crashed and burned at $53 million. The end of July looks like a decompression period where a lot of films won't hit, and Sex Tape looks like it could be one of the few to vanish, it's concept lending itself to a universal concept that no one wants to admit they comprehend.
Teenage Mutant Ninja Turtles – Platinum Dunes has given the heroes in a half shell an expensive big screen treatment. Two major elements really hold this film back, however (three if it's terrible). One, do the Turtles really have any mainstream appeal right now? The constantly-rebooted show is never exactly a breakout hit with TV audiences. And 2007's TMNT grossed an underwhelming $95 million, quickly forgotten by the fanbase. Two, look at those turtle designs. The trailer has played to much confusion as people seem to be put-off by these edgy, frankly unsightly-looking Ninja heroes. A major marketing challenge has been created by the sight of these things: international audiences may not care, though and they'll help buoy a worldwide gross around $120 million.
Sin City: A Dame To Kill For It's been how long since that first movie? The $158 million gross was considerable, sure, but one can be argued that the film did next-to-nothing for the box office reputations of its stars. Some are less-bankable now (Bruce Willis). Some have aged out of their roles (Jessica Alba). And some, sadly, have passed away (Michael Clarke Duncan, Brittany Murphy). As a result, there's a lack of truly compelling reasons to revisit Sin City once again, particularly considering the sad career trajectory of Robert Rodriguez, once a Hollywood maverick, now another sequel for-hire guy with buddy Frank Miller. Opening in the dregs of August isn't a great sign, though the international numbers just might get the film's global total over $100 million.
Your Daily Blend of Entertainment News