Sundance Review: Jane Campion's Top Of The Lake Offers Staggering Suspense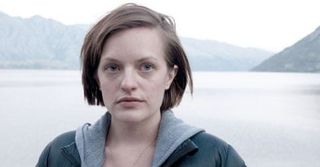 When word emerged that Jane Campion's television mini-series Top of the Lake would be premiering at the Sundance Film Festival ahead of its television debut, my Twitter feed exploded with critics complaining about its lengthy running time that would basically demand much of a very busy day at the frenzied festival. I, on the other hand, was instantly intrigued by what kind of story Campion and her co-director Garth Davis could wind over 300 minutes. While I did not make it to Sundance this year, I did have the opportunity to screen the first two of seven episodes of Top of the Lake, which have me ravenous for more.
Written by Campion and Gerard Lee, this crime drama begins with a 12-year-old girl in a school uniform walking into a lake with a determined yet resigned expression on her face. From her shivers and the clenching of her fists, it's clear this water is freezing. Then a Good Samaritan rushes in to pull her out and confirms the lake's chill can kill. But why would this child want to die? The answer—unfolded in its own time and among the introduction of a half dozen other characters—is that little Tui Mitcham is five months pregnant. By who is a mystery that becomes even more vexing after she goes missing.
Elisabeth Moss stars as Robin Griffin, a detective who has recently returned to her hometown—a place in rural New Zealand cruelly named Paradise—to reconnect with her cancer-stricken mother. As she searches for what's become of Tui, she crosses paths with a convicted pedophile, a dangerous local tough (Peter Mullan), an androgynous enlightenment guru (Holly Hunter), and the ghosts of her past.
From its first scene, what sets this production apart is the gradual pace at which the story unfolds. Notice I didn't say slow. That might suggest Campion and Davis's results are boring, but instead watching Top of the Lake feels like reading a great mystery novel where rather than a strong visual introduction that succinctly clues audiences into a particular character's stereotype, we're offered just a bit of information here and there, forced to stitch together what we discover. This is how the town and its residents are knit together. And its creation is masterfully done, offering a new puzzling bit of info just before the credits roll for a given episode. It also thematically fits this world, where everyone has something to hide.
Having only seen the first two episodes, I rightly feel like I have only scratched the surface of the mystery in Top of the Lake, and yet I am already in awe. The performances are strong and gritty. Moss has more to do here than I've seen on any episode of Mad Men, and does so with a stirring aplomb. For their part, Mullan and Hunter play foils of control that are both seductive and disturbing. Basically, between the taut tension, the brewing intrigue, the captivating performances and secretive town, there is plenty to be enticed by in Top of the Lake.
In a word, it's riveting. But as an ardent admirer of Campion's The Piano, I was most excited about the themes here of male dominance subverted by women's wild zones, where the patriarchy has no power. With Hunter once more playing a woman silently but solidly rejecting societal conventions of feminine duty, it's impossible to ignore drama's blossoming subtext. I'll be counting down the days until I can see where all this will lead.
For more Sundance coverage, click HERE. Top of the Lake will premiere on the Sundance Channel on March 18th at 9PM.
Your Daily Blend of Entertainment News
Staff writer at CinemaBlend.