TIFF Review: Nicole Kidman And Dianne Wiest Shine In Elegant Rabbit Hole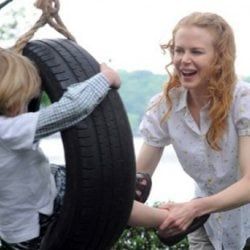 Adapted by David Lindsay-Abaire from his own Pulitzer Prize-winning play, Rabbit Hole bears its theatrical roots in mostly good ways-- the highly literary writing, the emotionally fraught scenes stacked up on top of each other, the small cast of characters. Director John Cameron Mitchell, making a major change of pace from the likes of Hedwig and the Angry Inch and Shortbus, opens the story up to the screen without ever overdoing it, emphasizing the oppressive architecture of a lonely house or the power of a silent moment. Most importantly, he leaves room for his stupendous actors to take over, and if Rabbit Hole feels a little more neat and contained than a movie ought to be, the performances almost entirely make up for it.
Leading the charge is Nicole Kidman, portraying a grieving mom with the kind of restraint we're accustomed to seeing from her, but with an acerbic bite and sarcasm that makes her character Becca less of a tragic martyr than, well, a real human. Becca lost her 4-year-old son Danny in a car accident 8 months earlier, and Becca and her husband Howie (Aaron Eckhart) have moved on only in the sense that they're pretending to the world that they're OK. Howie tries to find solace in a support group, which Becca finds too sentimental and religious, reaching out instead to the teenage driver (Miles Teller) who killed Danny, and both return home to their sprawling suburban New York home not to ignore each other, exactly, but persistently skirt around the looming figure of their dead son.
While any number of important things happen to Becca and Howie during Rabbit Hole, including Becca's sister Izzy (Tammy Blanchard) getting pregnant and their decision to sell their house, the movie is much more about the aftermath of the life-changing event, revealing these characters and their pain in small moments and decisions. There's a lot less screaming and crying here than you're expecting, and even a little humor as these two learn daily how to move on; instead of wallowing together, Becca and Howie are bumping up against the rest of the world alone, a terrible decision for their relationship but a far more interesting one to watch.
Not everything in Rabbit Hole avoids cliche-- the one screaming and crying scene between Becca and Howie feels a little forced, and Howie's budding friendship with a fellow support group member (Sandra Oh) isn't sketched out enough to provide more than rote "will they or won't they?" tension. And while Lindsay-Abaire's writing can put too fine a point on things in some scenes, it frequently takes your breath away with its insight; playing Becca's mother, Dianne Wiest delivers a monologue about grief that is all the more stunning for how simply and succinctly she presents it.
Much like fellow Broadway adaptation Doubt before it, Rabbit Hole will be treated more as an actor's showcase when it inevitably enters the Oscar race either this year or next, though Cameron Mitchell's restrained, elegant work is impressive precisely for how little you notice it. Kidman is the true standout here, outmatching Eckhart scene-by-scene to the point that it's almost a problem, but Wiest is also terrific in her quiet but key role. Though Rabbit Hole is in some way yet another story about grieving rich white people (and not as good as, say, In the Bedroom), it's a pretty exceptional example of the form, and if nothing else an opportunity for actors we love to get out there and impress us again.
More Cinema Blend coverage from the 2010 Toronto International Film Festival right here.
Your Daily Blend of Entertainment News
Staff Writer at CinemaBlend