New TV Spot For The Grey Pits Liam Neeson Against Wolves And Lots Of Snow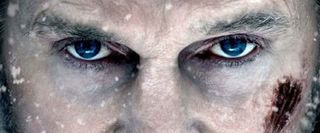 We've already seen a full trailer for the Liam Neeson/Joe Carnahan "man against the wild" flick The Grey, but now Open Road Films has released a new 90-second TV spot via Ain't It Cool News. It's got all the elements we've come to expect from this rather awesome-looking movie: wolves, snow, frostbite, snow, Liam Neeson being badass, and snow.
If you're wondering what's up with all the Twitter-speak and hash-tags throughout the spot, The Grey actually premiered at Ain't It Cool's annual Butt-Numb-a-Thon film festival, so this TV spot is incorporating the excited Twitter reactions from attendees rather than the usual film critic pull quotes. It's kind of odd and distracting, but I'm sure also cool for the folks whose quotes got used. Thankfully, it can't overwhelm the sheer awesomeness of Liam Neeson fighting wolves.
Directed and co-written by Joe Carnahan (with Ian Mackenzie Jeffers), The Grey tells the story of an oil-drilling team that must struggle to survive against the elements and the hungry local wildlife after a plane crash leaves them stranded in the middle of nowhere. In addition to Neeson, the film stars Dermot Mulroney, Dallas Roberts, James Badge Dale, and more. It's actually based on a short story by Jeffers called Ghost Walker.
The Grey opens in theaters on January 27th, 2012.
Your Daily Blend of Entertainment News
Thank you for signing up to CinemaBlend. You will receive a verification email shortly.
There was a problem. Please refresh the page and try again.