Taylor Swift Confirmed For Girls Like Us, Girls' Allison Williams Contends To Co-star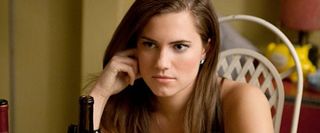 Despite being nominated in five categories—including Outstanding Comedy Series—the cutting-edge HBO show Girls won only an award for casting at the Emmys last night. But the inclusion of series' creator and star Lena Dunham naked and cake-pounding astride a toilet in the intro gave further evidence that stories of fearless women are having their moment. So it's fitting that updates are emerging on the casting process of Sony Pictures in-development adaptation of Sheila Weller's book Girls Like Us, which traces the lives of three remarkable women who dared to be different and in doing so forever changed the landscape of American music.
The compressive book offers in-depth biographies on singer-songwriters Joni Mitchell, Carly Simon, and Carole King, which Weller believes represent a swath of relatable experiences whatever your background. Mitchell spent her childhood in small town Canada, while King grew up in the outer boroughs of New York City in a middle-class home and Simon enjoyed the privilege of the Manhattan's high society. Yet each came to connect to massive audiences through their heartfelt songs that captured the zeitgeist of the '60s and '70s.
We previously reported that country singer Taylor Swift was in talks to front the film, playing Joni Mitchell, and Variety reports she has since signed on. Still up for grabs are the roles of Carole King and Carly Simon. Earlier reports had Newsroom's Alison Pill as a frontrunner for the part of King, but now Olivia Thirlby (Juno), Ari Graynor (For a Good Time Call…), and Zoe Kazan (Ruby Sparks) are also being considered for the role. It's a curious cross-section of actresses who are better known for comedic roles, making me wonder if the script penned by John Sayles has King as a form of wisecracking comic relief.
More curious though is the selection of actresses in contention for the role of Simon, as each is up and coming. Girls's Allison Williams, Mad Men's Jessica Pare, and model turned actress Analeigh Tipton (Crazy, Stupid, Love) are all up for the part of Simon. Type-wise each of these ingénues is a good fit for the archetype of poised upper class girl with a vulnerable side. Williams and Pare would seem to have an edge when it comes to singing—as one did a sultry twist on the Mad Men theme and the other made "Zou Bisou Bisou" fresh again—but Variety insists the final casting decision will come down to chemistry.
The producers and director Katie Jacobs are bringing all of the above in for auditions that will test not only their acting chops but also their chemistry with their potential co-stars. This makes the film's final line-up impossible to predict. However, while I'm not convinced Swift is ready to shoulder a feature film, the pool of talent in the running to be her co-stars is rich with possibility. Perhaps when Jacobs has a cast she's happy with, Sony will at long last give Girls Like Us the green light.
Your Daily Blend of Entertainment News
Staff writer at CinemaBlend.