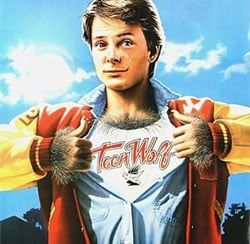 Teen Wolf, like everything else made in the 80s, is coming back. Movihole says Warner Bros. has finally decided to do something with the rights they picked up a few years ago, and they're looking for writers to deliver a remake script.
Apparently WB hasn't really decided what direction they want to go with the remake yet, whoever turns in the best script wins. Whether it's more Twilight or more Tru Blood, it'll probably still be about a teenager who suddenly finds himself turning into a wolf… and it won't be nearly as good without Michael J. Fox. Teen Wolf Too did a pretty good job hammering that point home, the recent awesomeness of Jason Bateman notwithstanding, he's no Marty McFly... and neither is anyone else.
Your Daily Blend of Entertainment News
Thank you for signing up to CinemaBlend. You will receive a verification email shortly.
There was a problem. Please refresh the page and try again.