Teresa Palmer And Luke Hemsworth Join Simon Pegg In Kill Me Three Times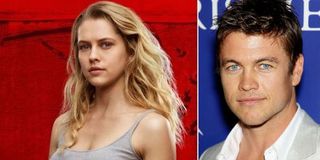 As the crime-thriller Kill Me Three Times kicks off production in Perth and Western Australia the film's makers have finally opened up about its mysterious plot line, while revealing newly added cast members. Aussie actors Teresa Palmer and Luke Hemsworth (yes, brother to Chris and Liam Hemsworth) have joined the ensemble cast that includes Gangster Squad's Sullivan Stapleteon, Elysium's Alice Braga, Cocktail's Bryan Brown, 300: Rise of an Empire's Callan Mulvey, and English comedy star Simon Pegg.
The film will offer a major change-up for Pegg and director Kriv Stenders. Instead of an outlandish comedy like The World's End or a feel-good dramedy like Stender's beloved Red Dog, Kill Me Three Times is a dark thriller that centers on one woman (Braga) linked to three dark tales of murder, blackmail, and vengeance. When the comedy darling was first cast last spring, Stenders was keeping quiet on Pegg's part, admitting only it was a "delicious role." However, Deadline reveals Pegg is set to play a hit man contracted by the husband (Mulvey) of a beautiful surf town singer (Braga) to kill her. Hemsworth has signed up to play a sweet surfer who wishes to save this singer from her would-be murderer. Brown's a crooked cop, and Palmer will portray a sort of modern Lady Macbeth who urges a gambling addict (Stapleton) to pay off his debts with a risky life insurance scam.
Abbie Cornish was attached to the project in May, but no mention is made of her in the Deadline piece, suggesting Palmer has replaced her. This Aussie ingénue has been steadily trying to breakthrough Stateside for years now. But one film after another—from the fantasy-adventure The Sorcerer's Apprentice to the raunchy comedy Take Me Home Tonight to the sci-fi adventure I Am Number Four--all proved disappointments. Even her starring role opposite Nicholas Hoult in the zombie rom-com Warm Bodies has done little to raise her reputation in the States, though the film was a modest box office success, earning $66 million domestically. To her credit, she has caught the notice of arthouse icon Terrence Malick, and should be seen in his mysterious Knight of Cups in 2014.
As for Luke Hemsworth, he hasn't landed any films as noteworthy as The Avengers or The Hunger Games, but the former soap opera star has been carving out a reputation for himself in Australian cinema. He's recently wrapped on a thriller written and directed by John V. Soto called The Reckoning. And following the conclusion of Kill Me Three Times, he'll go into production on the World War I drama The 34th Battalion with Vinnie Jones.
Basically, Kill Me Three Times could well prove a major opportunity for both Palmer and Hemsworth. Stender's last film, Red Dog was a huge hit in Australia, winning a string of awards as well as the title of the nation's highest-grossing film of 2011. And with Pegg on board, Kill Me Three Times will be marketable outside of Oz in territories like the US and the UK. Those intrigued should look for the feature in 2014.
Your Daily Blend of Entertainment News
Staff writer at CinemaBlend.
Your Daily Blend of Entertainment News
Thank you for signing up to CinemaBlend. You will receive a verification email shortly.
There was a problem. Please refresh the page and try again.